Need a pick-me-up? HALF of us are now popping a daily dose of vitamins
22nd September 2016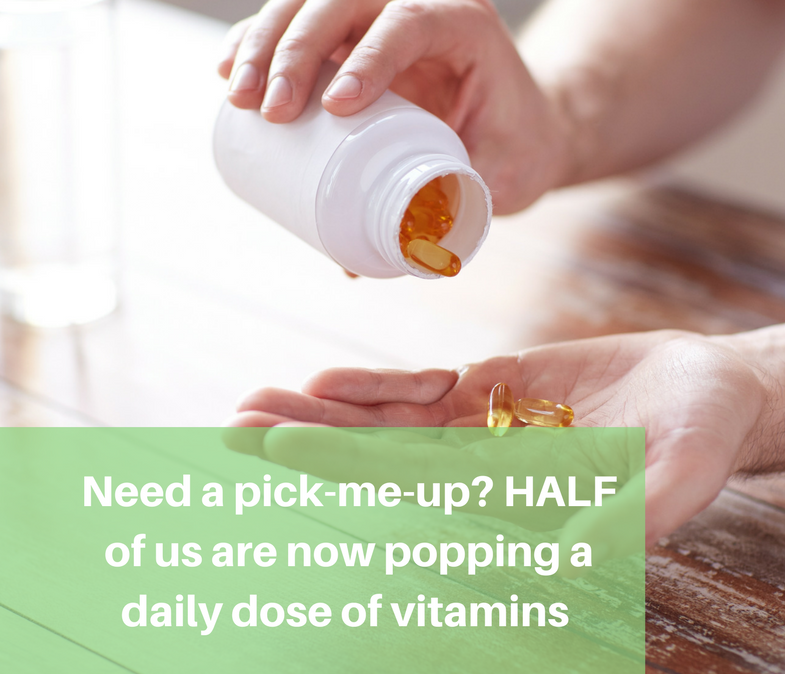 What was the story?
The number of daily users has jumped by 5 % to 46 % in a year
Sales are also on the rise, with the UK spending £414million annually

Occasional use is put at 65 %, according to study by analysts Mintel
Where was it published?
http://www.dailymail.co.uk/news/article-3799269/Need-pick-HALF-popping-daily-dose-vitamins.html
Almost half of Britons take a daily vitamin or supplement despite research questioning their value. The number of health-conscious daily users has jumped by 5 % to 46 %in the past year, a study shows. Sales of vitamins and supplements increased 2 % between 2014 and 2015 to £414million.
This year sales are set to increase a further 2 % to £421million, says the study by consumer analysts Mintel. While 46 % of the population pop the pills on a daily basis, occasional use is put at 65 %.
Vitamins marketed at particular groups such as women, children or the over-50s, with claims of specific benefits, are selling especially well in the face of research from a variety of sources questioning the value of the pills and potions.
In Britain, parents are advised that children aged six months to five years should be given supplements in the form of drops which contain vitamins A, C and D. Folic acid supplements are recommended for women who may become pregnant.
Jack Duckett, senior consumer lifestyles analyst at Mintel, said: 'Vitamins and mineral sales continue to be propelled by consumers' emphasis on health and wellbeing, leading people to take a more proactive approach towards their health.'
Vitamin C tablets are among the most common in the UK. Sales of women's supplements account for the largest share of the sector aimed at specific groups, up by 2.5 % to £55million in the year to May. The men's vitamins and supplements market is comparatively small but saw some of the biggest growth, with the value of sales rising 29 % to £11million over the same period. Despite this, male non-users – 53 % – are among the most likely to reject supplements on the basis they do not believe they need them, compared to 44 % of women.
A third of women users say they began taking supplements on a health practitioner's recommendation, compared to one fifth of men. Mr Duckett said: 'Whilst men continue to be less likely to use vitamins or supplements than women, the proportion of men taking vitamins on a daily basis has increased significantly, illustrating men's increased engagement with their health and personal care.'
In the UK, the NHS states that 'Because vitamin D is found only in a small number of foods, it might be difficult to get enough from foods that naturally contain vitamin D and/or fortified foods alone. So everyone, including pregnant and breastfeeding women, should consider taking a daily supplement containing 10mcg of vitamin D.'
The Department of Health also recommends that 'women should take a daily supplement of 400 micrograms of folic acid while they are trying to conceive, and should continue taking this dose for the first 12 weeks of pregnancy, when the baby's spine is developing. However, it is safe to continue taking folic acid supplements after 12 weeks.'
CHECK OUT OUR PRODUCTS...
SHARE
Tweet