NEW PRODUCT - Club Vits Carbon Men's Health
3rd January 2017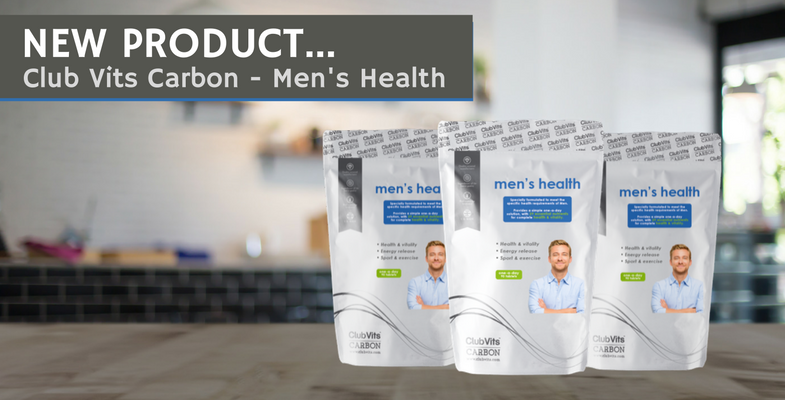 Club Vits Carbon - Men's Health
---
Specially formulated to meet the specific health requirements of Men. The formulation has been designed for men who want to achieve optimum performance while training, support reproductive health or maintain general health & vitality. This advanced tablet provides a simple one-a-day solution, with 29 essential nutrients for complete health & vitality. As well as containing all the key vitamin & minerals required by men it also includes Korean Ginseng, Co-Enzyme Q10 & Amino Acids.
Men's Health Needs
---
Zinc contributes to normal fertility & reproduction and the maintenance of normal testosterone levels in the blood. The formula also includes selenium which contributes to normal spermatogenesis
Energy Release
---
Contains a range of B-Vitamins which help to reduce tiredness & fatigue. B-Vitamins are key in helping the body to convert the food we eat into energy allowing us to stay energised throughout the day & perform at our best. Niacin, biotin & copper contribute to energy yielding metabolism & iron, magnesium & pantothenic acid help to reduce tiredness & fatigue.
Immune Health
---
Not only is immune health important for the winter months to protect against cold & flu but also to help defend the immune system against illness. The formulation includes selenium, zinc, vitamin C & D which contribute to the normal function of the immune system.
Sport & Exercise
---
Vitamins B2, C and E with minerals copper, selenium and zinc contribute to the protection of cells from oxidative stress. Free radicals are generated in greater numbers during exercise. Vitamin C contributes to maintain the normal function of the immune system during and after intense physical exercise.

SHARE
Tweet