Complete Multivitamin - Body Volt

✔  Quality Formulation
✔  Contains 22 Vitamins & Minerals
✔  Contributes to Metabolism & Muscle Function 

 

Body Volt's Complete Multivitamin 

Body Volt's Complete Multivitamin contains a comprehensive spectrum of Vitamins & Minerals to fulfil your nutritional needs & help you to perform at your best. This includes:

> Vitamin B6: contributes to normal energy-yielding metabolism.

> Vitamin B12: contributes to the reduction of tiredness and fatigue.
> Calcium and Vitamin D: contribute to the maintenance of normal muscle function.
> Magnesium: contributes to normal protein synthesis and the functioning of the nervous system.
> Vitamin C: contributes to maintain the normal function of the immune system during and after intense physical exercise. 
> Zinc: contributes to normal carbohydrate metabolism.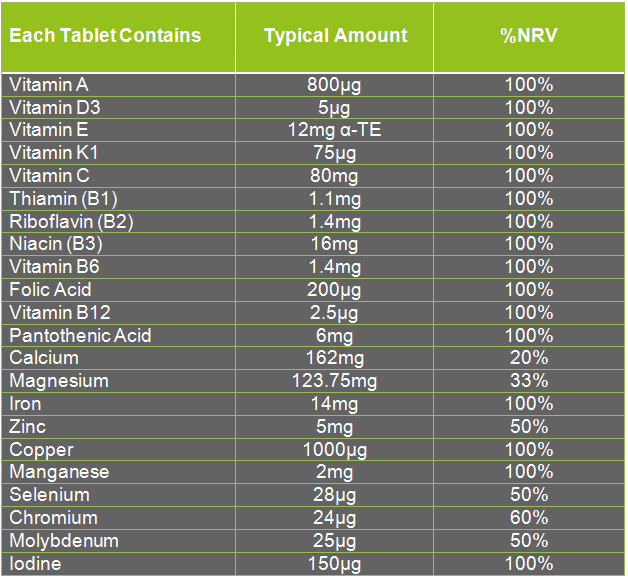 *NRV = Nutrient Reference Value
Directions:
Adults: Swallow one tablet daily, with food. Do not exceed the stated daily intake.

Ingredients:
Dicalcium Phosphate Dihydrate, Magnesium Oxide, Microcrystalline Cellulose, Ascorbic Acid, Acacia Gum, Ferrous Fumarate, Hydroxy Propyl Methyl Cellulose, Maltodextrin, DL-Alpha-Tocopheryl Acetate, Nicotinamide, Modified Maize Starch, Cross-Linked Sodium Carboxy Methyl Cellulose, Magnesium Stearate, Colours (Titanium Dioxide, Iron Oxides), Calcium Pantothenate, Anti-caking Agent (Silicon Dioxide), Talc, Zinc Oxide, Manganese Sulphate Monohydrate, Humectant (Glycerol), Copper Sulphate Pentahydrate, Sucrose, Maize Starch, Pyridoxine Hydrochloride, Thiamine Hydrochloride, Riboflavin, Retinyl Acetate, Folic Acid, Potassium Iodide, DL-Alpha-Tocopherol, Silicon Dioxide, Chromium Chloride Hexahydrate, Phytomenadione, Sodium Selenite, Sodium Molybdate Dihydrate, Cholecalciferol, Cyanocobalamin. 
Important: 
Keep out of the sight and reach of children. Food supplements should not be used as a substitute for a varied diet and healthy lifestyle. This product contains Vitamin A: do not take if you are pregnant or likely to become pregnant, except on the advice of a doctor or antenatal clinic. Contains Iron, which, if taken in excess, may be harmful to young children.