Club Vits - Cod Liver Oil with Multivitamins

✔  Premium Quality Capsules 
✔  Supports Brain, Joint and General Health
✔  With Added Multivitamin Complex


Description:
Our premium quality, Cod Liver Oil & Calcium capsules are rich in Omega-3 fatty acids. with 110mg of EPA/ DHA per capsule. These important fatty acids have cardioprotective benefits and contribute to brain function and joint mobility. The added Calcium along with Vitamins A and D which are found naturally within cod liver oil, contribute to normal; bones, muscles and teeth. Calcium also contributes to normal neurotransmission and the function of digestive enzymes.


What is Cod Liver Oil?
As the name suggests Cod Liver Oil is taken from the liver of the cod fish and is rich in Eicosapentaenoic acid (EPA) and Docosahexaenoic Acid (DHA) Omega-3 fatty acids. As it is derived from the liver where Vitamin A and D are processed and stored, it is also a good source of these nutrients. 

These Cod Liver Oil capsules also contain Calcium which along with the Vitamin D found naturally within cod Liver Oil helps maintain normal healthy bones. 


What are the health benefits of Cod Liver Oil?
As Cod Liver Oil is naturally rich in a variety of nutrients it contributes to the different components of overall health including:
> Heart Health: The important Omega-3 fatty Acids EPA & DHA have cardio-protective benefits and support the normal function of the heart.
> Immune Health: Vitamins A and D contribute to the normal function of the immune system.
> Eye Health: DHA and Vitamin A contribute to the maintenance of normal vision.

> Mobility: Vitamin D contributes to the maintenance of normal muscle function and bones. There is also some evidence that Vitamin D supports healthy joints and EPA may help prevent inflammation.

> Brain Function: Omega-3 fatty acids contribute to the maintenance of normal brain function.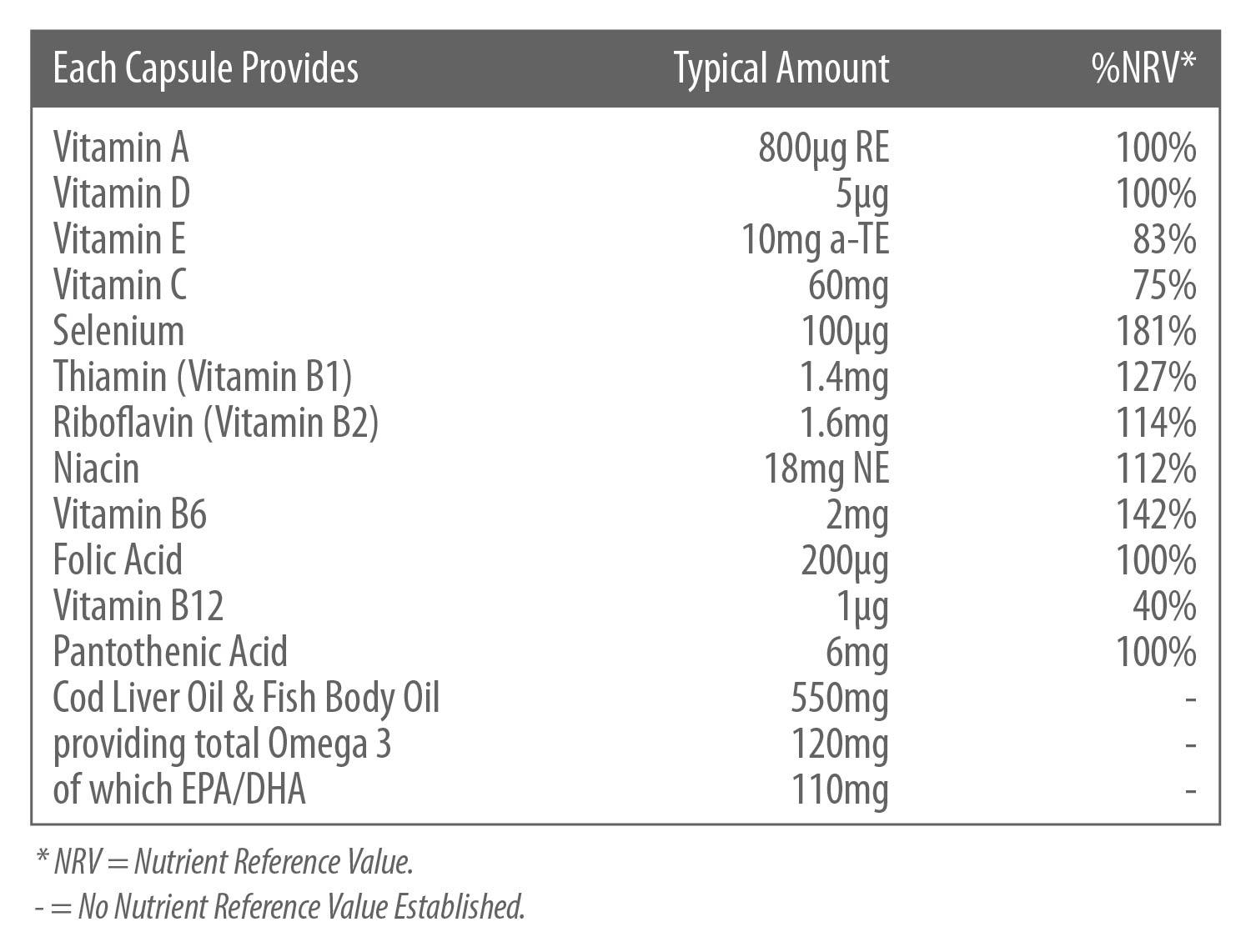 Directions: Adults and children over 12 years: Swallow one capsule daily, with food. Do not exceed the stated daily intake.

Ingredients: Cod (Fish) Liver Oil (29%), Fish Body Oil (28%), Beef Gelatin, Ascorbic Acid, Humectant (Glycerol), Glyceryl Monostearate, Nicotinamide, DI-Alpha-Tocopheryl Acetate, Sunflower Oil, Colour (Plain Caramel), Calcium Pantothenate, Pyridoxine Hydrochloride, Thiamine Mononitrate, Riboflavin, Retinyl Palmitate, Maltodextrin, Antioxidants (D-Alpha-Tocopherol, Mixed Tocopherols, DI-Alpha-
Tocopherol), Folic Acid, Palm Oil, Trisodium Citrate, Citric Acid, Cholecalciferol, Cyanocobalamin.

Allergy Advice: See ingredients in bold.

Storage: Store in a cool, dry place out of sight and reach of children.

Important: Food supplements should not be used as a substitute for a varied diet and healthy lifestyle.