Niacin, B6, B12 and Iron contribute to normal energy-yielding metabolism. Vitamin E, B2, Zinc, Copper, Manganese and Selenium contribute to the protection of cells from oxidative stress. Biotin, Magnesium, Copper and Iodine contribute to normal functioning of the nervous system. Calcium contributes to maintenance of normal bones, teeth and muscles.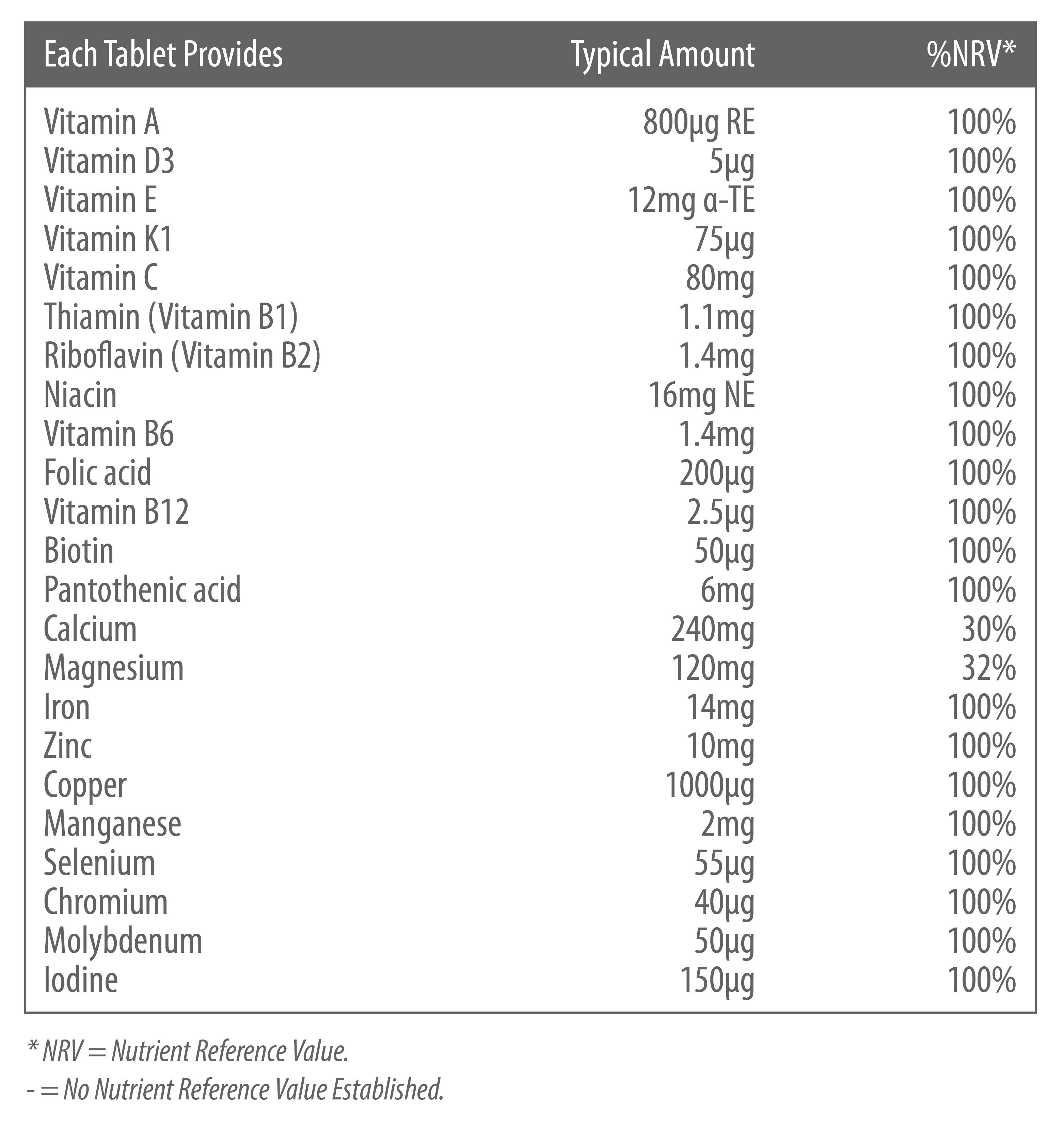 Directions:
Adults and Children over 12 years: Swallow one tablet daily with food. Do not exceed the stated daily intake.
Ingredients:
Calcium Carbonate, Magnesium Oxide, Microcrystalline Cellulose, Ascorbic Acid, Maltodextrin, Acacia Gum, Ferrous Fumarate, Hydroxy Propyl Methyl Cellulose, DL-Alpha-Tocopheryl Acetate, Nicotinamide, Modified Maize Starch, Zinc Oxide, Magnesium Stearate, Calcium Pantothenate, Colour (Titanium Dioxide), Anti-Caking Agent (Silicon Dioxide), Talc, Manganese Sulphate Monohydrate, Humectant (Glycerol), Copper Sulphate Pentahydrate, Sucrose, Maize Starch, Pyridoxine Hydrochloride, Thiamin Hydrochloride, Riboflavin, Retinyl Acetate, Folic Acid, Potassium Iodide, Chromium Chloride Hexahydrate, DL-Alpha-Tocopherol, Silicon Dioxide, Sodium Selenite, Sodium Molybdate Dihydrate, Phytomenadione, Biotin, Cholecalciferol, Cyanocobalamin.
Storage:
Store in a cool, dry place out of sight and reach of children.
Important:
Food supplements should not be used as a substitute for a varied diet and healthy lifestyle.