Menopause Advanced - Night (90 Capsules) - Club Vits Carbon
✔ Premium Quality Capsules
✔ Provides Support Before, During & After the Menopause.
Club Vits Carbon Advanced Menopause Support Night is a one a day high strength combination of Evening Primrose & Starflower Oils to provide a quality source of GLA. GLA (Gamma-linolenic acid) is a source of essential Omega 6 fatty acids which are a key component of hormones.
Each capsule contains an effective formulation of 700mg of Evening Primrose Oil & 356mg of Starflower Oil to provide 120mg of GLA whilst also providing a source of Vitamin E.

Omega 6 Fatty Acids:
Are considered essential in the body. They are necessary for human health but cannot be made by the body therefore must be received by a food or supplement source. Evening Primrose Oil and Starflower Oil are a rich source of GLA's and therefore Omega 6.

Evening Primrose Oil:
Has gained popularity in treating hot flushes and night sweats associated with the Menopause. GLA is a known precursor of prostaglandin E, a hormone-like chemical necessary for many bodily functions, including the regulation of hormones. EPO has the ability to synthesise prostaglandin, which play an important role in the regulation of hormones, there is some thought the EPO may help reduce the hormonal changes associated with the menopause.

Vitamin E:
Is an important vitamin required for the proper function of many organs in the body. Vitamin E has powerful antioxidant properties, meaning it soaks up free radicals, high-energy particles that can damage cells within the body. Removing free radicals can reduce stress on the body.
Use in conjunction with our Menopause Support Day Tablet for 24 hour support.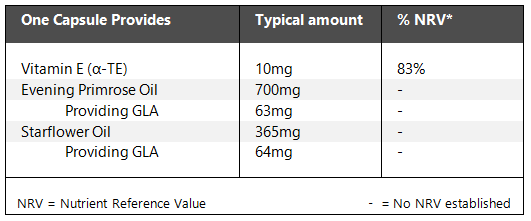 Ingredients:
Evening Primrose Oil, Starflower Oil (Borago offcinalis L.), Beef Gelatin, Humectant (Glycerol), DL-Alpha-Tocopheryl Acetate.
Directions: 
Adults: Swallow one capsule daily, with food. Do not exceed the stated dose.

Storage:  
Keep sealed in a cool, dry place.

Important: 
Food supplements should not be used as a substitute for a varied diet and healthy lifestyle. Store in a cool, dry place out of sight and reach of children. If you are on any medication or have a medical history, consult your doctor prior to taking supplements.
No artificial colours, flavours or preservatives. Not suitable for Vegetarians.