Complete A-Z Multivitamin (90 Tablets) - Club Vits Carbon
✔ Premium Quality Tablets
✔ Complete Multivitamin
Contains a comprehensive spectrum of Vitamins & Minerals to provide multiple health benefits, fulfil your nutritional needs & support your everyday health. Suitable for all adults, especially those who lead busy, active lifestyles due to the pressures of modern life.
Energy Release:
Contains a range of B-Vitamins which help to reduce tiredness & fatigue. B-Vitamins are key in helping the body to convert the food we eat into energy allowing us to stay energised throughout the day. Niacin, biotin & copper contribute to energy yielding metabolism & iron, magnesium & pantothenic acid help to reduce tiredness & fatigue.
Immunity Support:
Vitamin C is essential for good health & provides your body with the defence it needs to support your immune system. Selenium & zinc also help to support a healthy immune system. This is important not only during the winter months but all year around.
Bone & Muscles:
Calcium & Vitamin D along with other nutrients such as magnesium & manganese work synergistically to maintain bone, teeth & muscle health.
Vision: 
Both Vitamin A & riboflavin can help maintain & support normal vision. Lutein is a carotenoid found in the human eye which is thought to protect the eye tissue.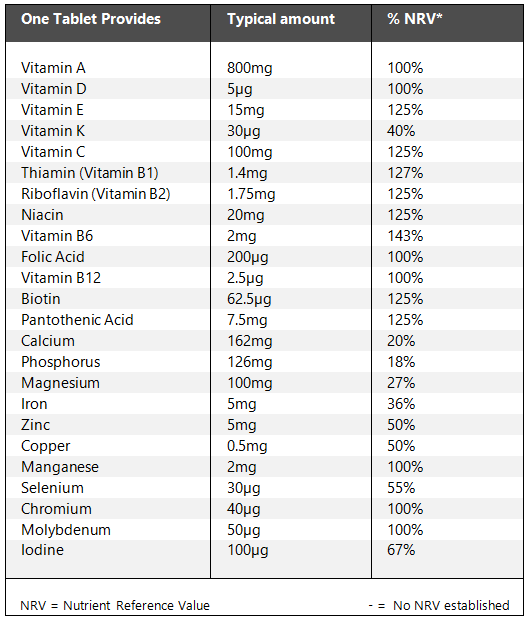 Directions: 
Adults and children over 12 years: swallow one tablet daily, with food. Do not exceed the stated dose.
Ingredients: 
Dicalcium Phosphate Dihydrate, Microcrystalline Cellulose, Magnesium Oxide, Ascorbic Acid, Acacia Gum, Maltodextrin, DL-Alpha-Tocopheryl Acetate, Nicotinamide, Modied Maize Starch, Hydroxy Propyl Methyl Cellulose, Ferrous Fumarate, Cross-Linked Sodium Carboxy Methyl Cellulose, Magnesium Stearate, Calcium Pantothenate, Anti-Caking Agent: Silicon Dioxide; Zinc Oxide, Manganese Sulphate Monohydrate, Maize Starch, Talc, Sucrose, Humectant: Glycerol; Pyridoxine Hydrochloride, Thiamine Hydrochloride, Copper Sulphate Pentahydrate, Riboavin, Retinyl Acetate, Lutein, Folic Acid, Silicon Dioxide, Chromium Chloride Hexahydrate, DL-Alpha-Tocopherol, Potassium Iodide, Sodium Molybdate Dihydrate, Biotin, Sodium Selenite, Phytomenadione, Cholecalciferol, Cyanocobalamin.
Storage: 
Keep sealed in a cool, dry place.
Important: 
This product contains Vitamin A: do not take if you are pregnant, or likely to become pregnant, except on the advice of a doctor or antenatal clinic. Contains iron, which if taken in excess, may be harmful to young children. Food supplements should not be used as a substitute for a varied diet and healthy lifestyle. Keep out of sight and reach of children. Do not use if inner seal is broken.
No artificial colours, flavours or preservatives. Suitable for vegetarians.