Club Vits Carbon - Men's Health Multivitamin (90 Tablets)
✔ Premium Quality Tablets
✔ Specially Formulated For Men
Specially formulated to meet the specific health requirements of Men. The formulation has been designed for men who want to achieve optimum performance while training, support reproductive health or maintain general health & vitality. This advanced tablet provides a simple one-a-day solution, with 29 essential nutrients for complete health & vitality. As well as containing all the key vitamin & minerals required by men it also includes Korean Ginseng, Co-Enzyme Q10 & Amino Acids.
Men's Health Needs: 
Zinc contributes to normal fertility & reproduction and the maintenance of normal testosterone levels in the blood. The formula also includes selenium which contributes to normal spermatogenesis.
Energy Release: 
Contains a range of B-Vitamins which help to reduce tiredness & fatigue. B-Vitamins are key in helping the body to convert the food we eat into energy allowing us to stay energised throughout the day & perform at our best. Niacin, biotin & copper contribute to energy yielding metabolism & iron, magnesium & pantothenic acid help to reduce tiredness & fatigue.
Sport & Exercise:
Vitamins B2, C and E with minerals copper, selenium and zinc contribute to the protection of cells from oxidative stress. Free radicals are generated in greater numbers during exercise. Vitamin C contributes to maintain the normal function of the immune system during and after intense physical exercise.
Immune Health:
Not only is immune health important for the winter months to protect against cold & flu but also to help defend the immune system against illness. The formulation includes selenium, zinc, vitamin C & D which contribute to the normal function of the immune system.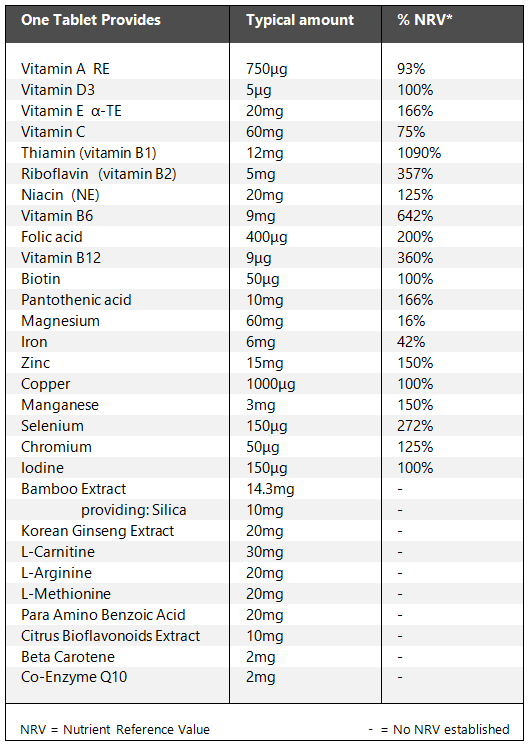 Directions:
Adults and children over 12 years: swallow one tablet daily, with food. Do not exceed the stated dose. 
Ingredients:
Calcium Carbonate, Microcrystalline Cellulose, Magnesium Oxide, Maltodextrin, Ascorbic Acid, Acacia Gum, Modied Maize Starch, L-Carnitine Tartrate, DL-Alpha-Tocopheryl Acetate, Citrus Bioavonoids (Citrus aurantium) Extract, Nicotinamide, L-Arginine, L-Methionine, Para Amino Benzoic Acid, Ferrous Fumarate, Hydroxy Propyl Methyl Cellulose, Korean Ginseng (Panax ginseng) Extract, Thiamin Hydrochloride, Zinc Oxide, Bamboo (Bambusa vulgaris) Extract, Calcium Pantothenate, Pyridoxine Hydrochloride, Magnesium Stearate, Manganese Sulphate Monohydrate, Anti-caking Agent: Silicon Dioxide; Colours: Titanium Dioxide, Iron Oxides; Riboavin, Talc, Copper Sulphate Pentahydrate, Humectant: Glycerol; Sucrose, Beta-Carotene, Co-Enzyme Q10, Maize Starch, Retinyl Acetate, Folic Acid, DL-Alpha-Tocopherol, Sodium Selenite, Silicon Dioxide, Chromium Chloride Hexahydrate, Potassium Iodide, Biotin, Cyanocobalamin, Cholecalciferol.
Storage:
Keep sealed in a cool, dry place.
Important: 
This product contains Vitamin A: do not take if you are pregnant, or likely to become pregnant, except on the advice of a doctor or antenatal clinic. Contains Iron, which if taken in excess, may be harmful to young children. Food supplements should not be used as a substitute for a varied diet and healthy lifestyle. Keep out of the sight and reach of children. Do not use if inner seal is broken.
No artificial colours, flavours or preservatives. Suitable for vegetarians.