Club Vits Carbon - Women's Health Multivitamin (90 Tablets)
✔ Premium Quality Tablets
✔ Specially Formulated For Women
Scientifically formulated to provide comprehensive support for the specific health needs of Women. Contains 21 key vitamins & minerals combined with Evening Primrose & Starflower Oil for the promotion of all round health & wellbeing.
Female Health:
Evening Primrose Oil & Starflower Oil are included within the formulation, the oils provide the body with a source of GLA (Gamma-linolenic acid). Vitamin B6 is included in the formulation to contribute to the regulation of hormones. Each capsule also contains Iron which contributes to the normal formation of red blood cells & haemoglobin which is important during the monthly cycle. Also included is 400µg of folic acid which contributes to maternal tissue growth during pregnancy. Folic Acid at 400µg is recommended by the chief medical officer if you're planning a pregnancy or if there is a chance you might get pregnant.
Energy Release:
Women lead busy & demanding lifestyles, this formulation contains a comprehensive range of B-Vitamins to help reduce feelings of tiredness & fatigue enabling you to perform at your best. Niacin, biotin & copper contribute to energy yielding metabolism & iron, magnesium & pantothenic acid help to reduce tiredness & fatigue.
Immune Health: 
Not only is immune health important for the winter months to protect against cold & flu but also to help defend the immune system against illness. The formulation includes selenium, zinc, vitamin C & D which contribute to the normal function of the immune system.
Skin, Hair & Nails: 
Contains Biotin & Zinc help to ensure radiant skin, voluminous hair & healthy nails. Also contains Vitamin C which helps support collagen formation to promote & maintain skin elasticity. Collagen makes up 75% of our skin & is key in helping to keep skin looking younger, giving it firmness and a plump appearance.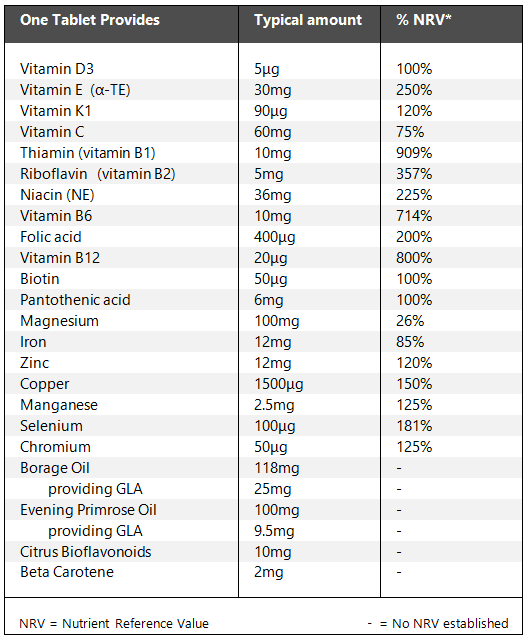 Ingredients:
Beef Gelatine, Magnesium Oxide, Sunower Oil, Borage Oil (Borago ocinalis L.), Evening Primrose Oil, Coconut Oil, Humectants: Glycerol, Sorbitol; Calcium Ascorbate, Nicotinamide, Ferrous Sulphate, Maltodextrin, D-Alpha-Tocopherol, Stabiliser: Beeswax; Emulsier: Lecithins (Sunower); Zinc Oxide, Colours: Plain Caramel, Titanium Dioxide; Thiamine Mononitrate, Pyridoxine Hydrochloride, Citrus Bioavonoids (Citrus aurantium), Calcium Pantothenate, Manganese Sulphate Monohydrate, Riboavin, Olive Oil, Copper Sulphate Pentahydrate, Beta Carotene, Trisodium Citrate, Folic Acid, Citric Acid, Chromium Chloride Hexahydrate, Palm Oil, Sodium Selenite, Phytomenadione, Biotin, Cyanocobalamin, DL-Alpha-Tocopherol, Cholecalciferol.

Directions: 
Adults and children over 12 years: swallow one capsule daily, with food. Do not exceed the stated dose.
Storage:
Keep sealed in a cool, dry place.

Important: 
Contains Iron, which if taken in excess, may be harmful to young children. Food supplements should not be used as a substitute for a varied diet and healthy lifestyle. Keep out of sight and reach of children. Do not use if inner seal is broken.
No artificial colours, flavours or preservatives. Not suitable for Vegetarians.