Club Vits - Cod Liver Oil & Evening Primrose Oil Capsules

✔  Premium Quality Capsules
✔  Supports Brain & Joint Health
✔  Great Value for Money


Description:
These premium quality capsules, have been formulated to deliver Cod Liver Oil which is rich in Omega-3 fatty acids with Evening Primrose Oil which provides Omega-6 fatty acids. As well as being rich in these beneficial fatty acids, these capsules are packed with Vitamins A, D and E. Vitamin A helps support the immune system, Vitamin D nourishes our bones and Vitamin E helps protect cells from oxidative stress.


What is Cod Liver Oil?
As the name suggests Cod Liver Oil is taken from the liver of the cod fish and is rich in Eicosapentaenoic acid (EPA) and Docosahexaenoic Acid (DHA) Omega-3 fatty acids. These fatty acids contribute to normal heart and brain function. Omega 3s are also thought to have anti-inflammatory properties which may contribute to joint health and mobility.
As it is derived from the liver where Vitamin A and D are processed and stored, it is also a good source of these vitamins which support the normal function of the immune system. Vitamin A also helps maintain normal vision whilst Vitamin D aids with calcium absorption and the maintenance of normal bones.


What is Evening Primrose Oil?
Evening Primrose Oil (EPO) is derived from the seeds of an Evening Primrose plant. The oil produced from these seeds is considered to have beneficial health effects, as it provides the fatty acids Linoleic Acid (LA) and Gamma Linolenic Acid (GLA). EPO is commonly taken by women around the time of their period. It is also thought to help maintain healthy skin, prevent dryness.


Who should take Cod Liver Oil & EPO?
In order for us to increase our Omega-3 intake, the UK government recommends eating 2 portions of fish per week with one of these being oily fish. For those people who don't eat much fish taking a Cod Liver Oil supplement is a good alternative as it is high in EPA and DHA Omega-3s.
With the lack of sunlight in the UK a lot of people aren't getting enough Vitamin D. This has lead to Public Health England (PHE) recommending that everyone should take a supplement containing Vitamin D especially during the winter months. As Cod Liver Oil is one of the richest, natural sources of Vitamin D it is a good option for the majority of people in the UK who aren't getting sufficient sun exposure.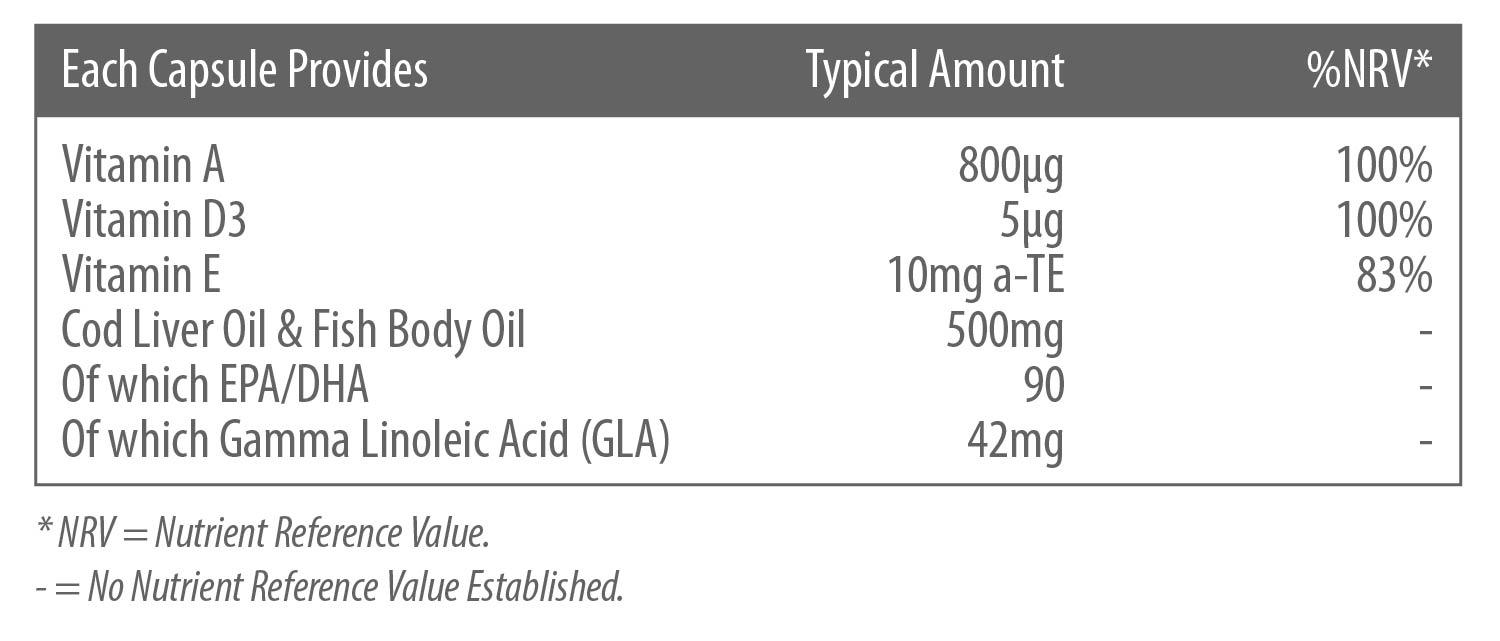 Directions:
Adults and children over 12 years: Swallow one capsule daily, with food. Do not exceed the stated daily intake.

Ingredients:
Evening Primrose Oil, Beef Gelatin, Cod (Fish) Liver Oil (17%), Fish Body Oil (16%), Humectant (Glycerol), DI-Alpha-Tocopheryl Acetate, Retinyl Palmitate, Antioxidants (D-Alpha-Tocopherol, Mixed Tocopherols, DI-Alpha-Tocopherol), Palm Oil, Cholecalciferol.

Allergy Advice: 
See ingredients in bold.

Storage:
Store in a cool, dry place out of sight and reach of children.

Important:
Food supplements should not be used as a substitute for a varied diet and healthy
lifestyle.