Multivitamin & Iron Tablets - Club Vits
✔ Premium Quality Tablets
✔ Complete Blend of Vitamins
✔ Combined with Iron.
Multivitamin with Iron is a complete blend of vitamins combined with Iron at levels tailored for the maintenance of health in adults. Iron is an important mineral that contributes to the normal transport of oxygen around the body & red blood cell formation. As the body does not produce iron, it must be provided through the diet. It is particularly useful if you lead an active lifestyle, if you're an adult female or have any dietary restrictions.
Vitamin A contributes to the maintenance of normal vision. B1, B2, Niacin, B6, B12 and Iron contribute to normal energy-yielding metabolism. Vitamin E and B2 contribute to the protection of cells from oxidative stress. Biotin and Magnesium contribute to normal functioning of the nervous system.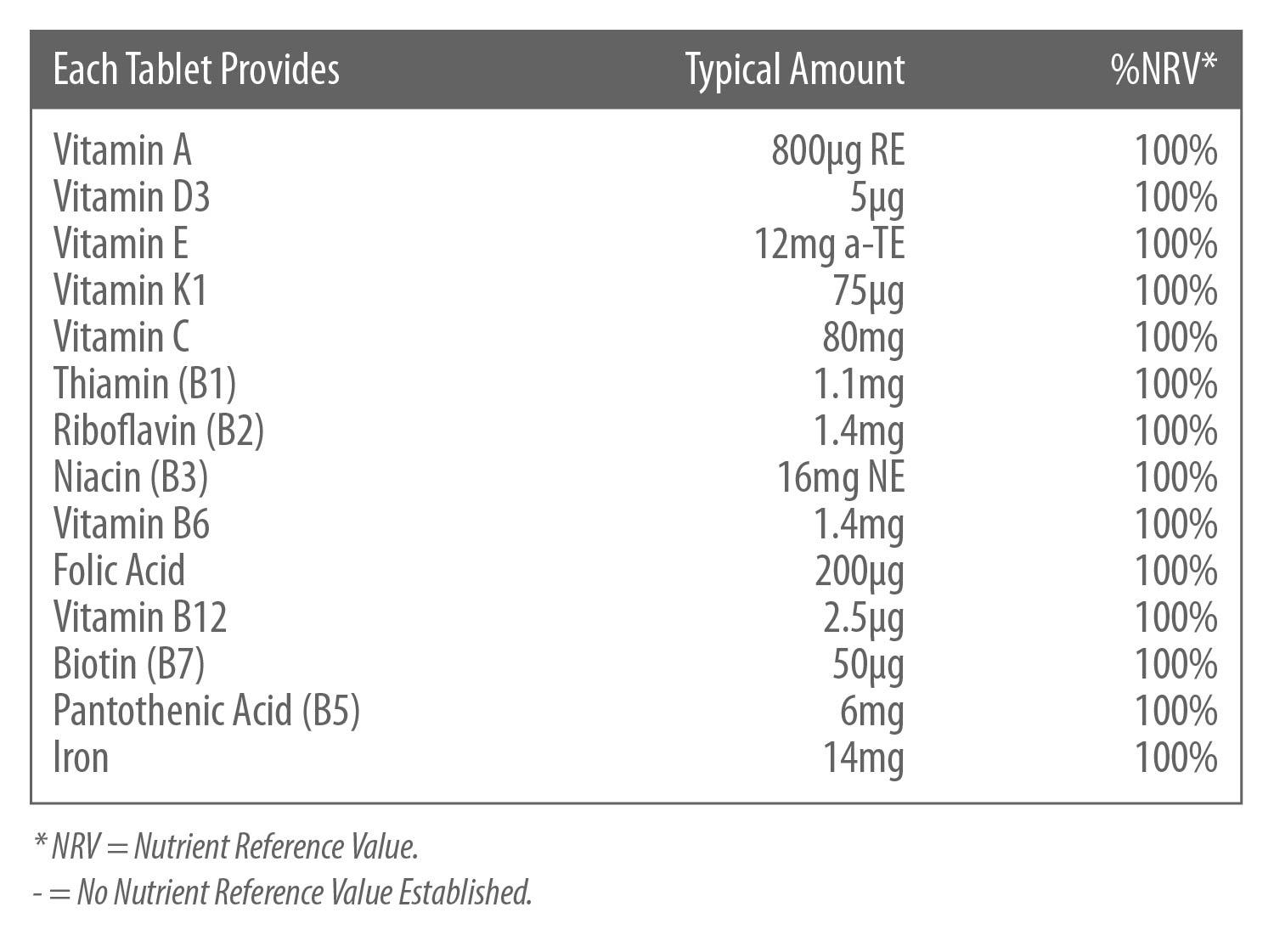 Directions: 
Adults and Children over 12 years: Swallow one tablet daily with food. Do not exceed the stated daily intake.
Ingredients: 
Ascorbic Acid, Microcrystalline Cellulose, Ferrous Fumarate, Dicalcium Phosphate Dihydrate, DI-Alpha-Tocopheryl Acetate, Nicotinamide, Maltodextrin, Polyvinylpyrrolidone, Calcium Pantothenate, Hydroxy Propyl Methyl Cellulose, Sucrose, Starch Sodium Octenyl Succinate, Maize Starch, Talc, Modified Maize Starch, Magnesium Stearate, Cross-Linked Sodium Carboxy Methyl Cellulose, Anti-caking agent (Silicon Dioxide), Pyridoxine Hydrochloride, Thiamin Hydrochloride, Riboflavin, Retinyl Acetate, Sodium Aluminium Silicate, Colours (Black Carrot Extract, Titanium Dioxide, Riboflavin), Folic Acid, Citric Acid, Phytomenadione, Biotin, Cholecalciferol, Cyanocobalamin, Sulphur Dioxide.
Important: 
Food supplements should not be used as a substitute for a varied diet and healthy lifestyle. Store in a cool, dry place out of sight and reach of children.