Cod Liver Oil Capsules 1000mg - Club Vits Fill Good

✔  Premium Quality Capsules 
✔  Keep Fresh Tub
✔  A Year's Supply or More


Our premium quality, Keep Fresh Cod Liver Oil Capsules - 1000mg, offer a year or more's supply at a great price. They're ideal for you, your family or even your sports team and they contain a high concentration of Omega-3 fatty acids. with 80mg of EPA and 80mg of DHA. 
With the handy 'Keep Fresh' container, once you're running out you don't need to buy again. Simply top-up with our Club Vits pouches for an eco-friendly supplement regime and long-lasting freshness. . 
These capsules are high in Vitamins A and D too, which contribute to normal skin, vision, bones muscles and teeth. 
What are the health benefits of Cod Liver Oil?
Being naturally rich in a variety of nutrients, cod liver oil contributes to a range of health components including: 
> Heart Health: Omega-3 fatty Acids EPA & DHA have cardioprotective benefits to help support the function of the heart.
> Immune Health: Vitamins A and D help contribute to the normal function of the immune system.
> Eye Health: DHA and Vitamin A contribute to the maintenance of normal vision.

> Mobility: Vitamin D contributes to the maintenance of normal muscle function and bones. There is also some evidence that Vitamin D supports healthy joints and EPA may help prevent inflammation.

> Brain Function: Omega-3 fatty acids contribute to the maintenance of normal brain function.
Who should take Cod Liver Oil?
The UK Government recommends eating 2 portions of fish a week with one of these being an oily fish.For those who do not eat fish or who don't eat it regularly, taking a Cod Liver Oil supplement is a good alternative as it is high in EPA and DHA Omega-3s.
Equally, with sunlight being at times rare in the UK, people often don't get enough Vitamin D. This has resulted in Public Health England (PHE) recommending that everyone should consider taking a supplement that contains Vitamin D (especially during the winter months).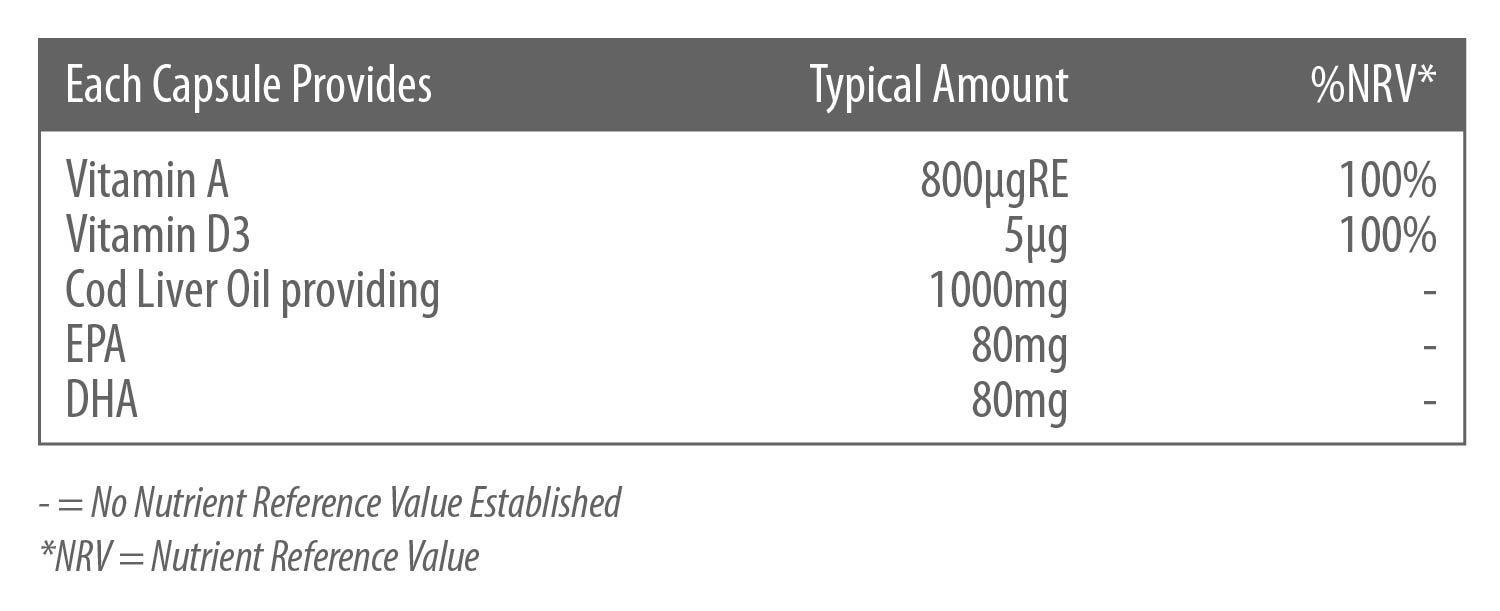 Directions:
Adults and children over 12 years: Swallow one capsule daily, with food. Do not exceed the stated daily intake.

Ingredients:
Cod (Fish) Liver Oil, (Fish) Body Oil, Beef Gelatin (Bovine Bone), Glycerine, Retoinol Palmitate, Palm Oil, Antioxidants, Corn Oil, DL-Alpha-Tocopherol, Cholecalciferol.

Allergy Advice: 
See ingredients in bold.

Storage:
Store in a cool, dry place out of sight and reach of children.

Important:
Food supplements should not be used as a substitute for a varied diet and healthy
lifestyle.