Eye Health Advanced Support 180 Capsules - Club Vits Fill Good

✔  Contains 10 key active ingredients 
✔   Contributes to the maintenance of normal vision    
✔  Premium Quality 
What is Fill Good Eye Health Advanced Support?
Fill Good Eye Health Advanced Support contains 10 key active ingredients carefully chosen to create this bespoke, market leading, eye health formula. 2 of these active ingredients are the most abundant carotenoids found in the retina (macula) of the eye. The Macula is yellow in colour and at the centre of the retina at the back of the eye. The Macula is small but mighty! Only 5mm in size but responsible for all of our central vision, especially when it comes to the fine details of what we see, such as reading.
What are the benefits of Fill Good Eye Health Advanced Support? 
In nature, Lutein and Zeaxanthin appear to absorb excess light energy to prevent damage to plants from too much sunlight. In humans, they act in a similar way, a 'natural suncream' for your eye. Fill Good Eye Health Advanced Support also has added Zinc to help to protect cells from oxidative stress.
Zinc and DHA are well known for contributing to the maintenance of normal vision. Zinc is particularly special, as it not only contributes to the protection of cells from oxidative stress, but is also responsible for normal cognitive function, normal protein synthesis and normal metabolism of vitamin A.
Vitamin A contributes to normal vision, skin and immune function. The human body is also able to convert beta carotene into vitamin A. You were probably told as a child that you could see in the dark if you ate up all your carrots. This was a slight fib, although carrots are a great source of beta carotene, so a good way of getting your vitamin A.
Green, leafy veg as well as eggs, nuts and oily fish are all good dietary sources to maintain normal vision, however the focus on eye health is ever increasing with modern day life including computers, mobile phones and driving among other activities. Eye Health Advanced Support is the perfect addition to your daily supplement routine to ensure you are looking after your eye health as much as you would the rest of your body
Who should use Fill Good Eye Health Advanced Support?   
Fill Good Eye Health Advanced Support is ideal for adults looking for or in need of eye health support. Easy to use capsule form for daily intake. Perfect for those with a busy and active lifestyle or with a professional when vision is particularly overused.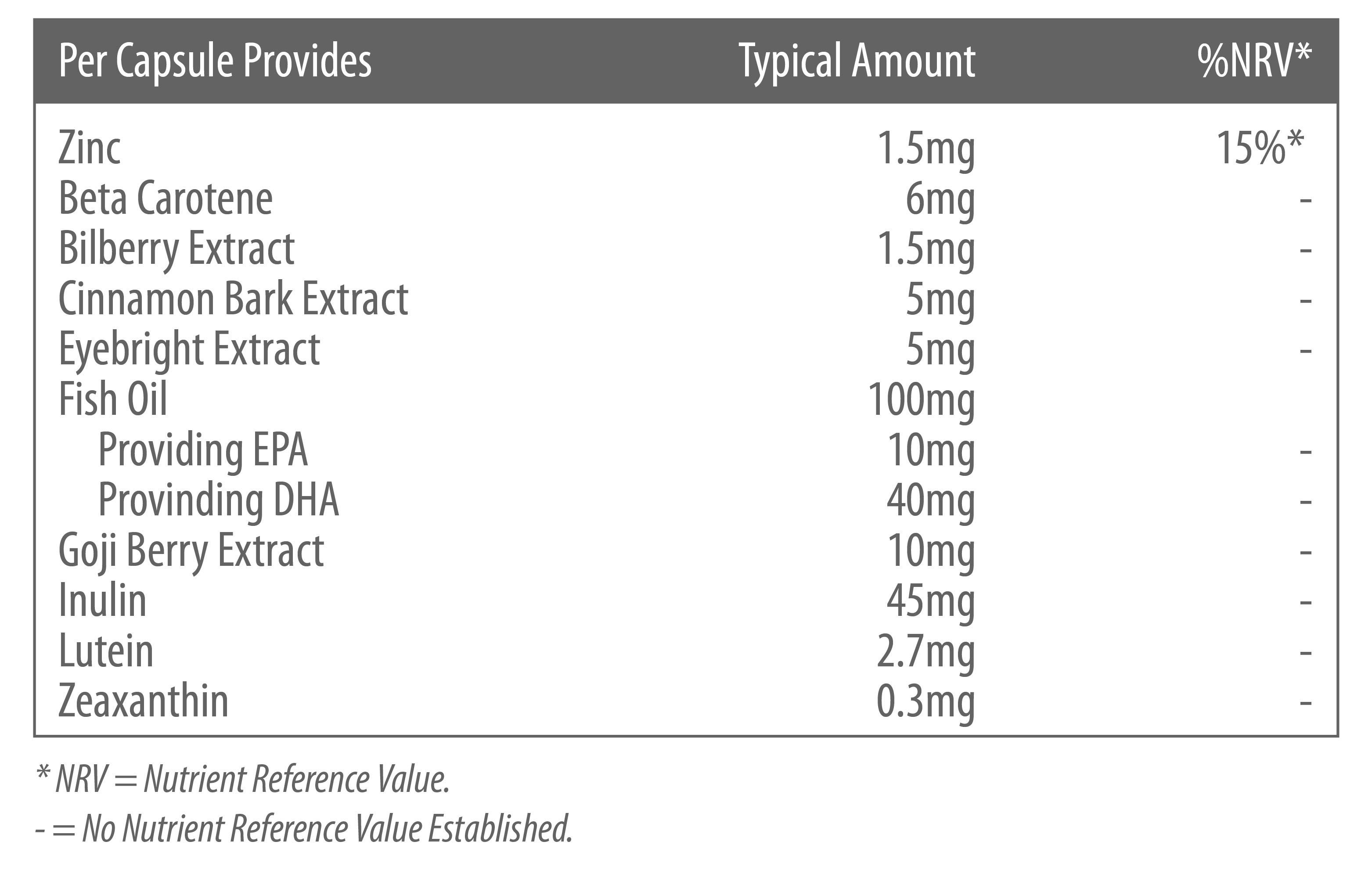 Directions:     
Adults: Swallow one capsule daily, with food. Do not exceed the stated daily intake.
Ingredients:     
Soya Bean Oil, Gelatin, Fish Oil, Glycerine, Inulin, Glyceryl Monostearate, Water, Lutein, Wolf Berry Extract, Beta Carotene, Caramel Colour, Eye Bright Extract, Cinannamon Bark Extract, Zinc Oxide, Bilberry Extract, Zeaxanthin, Titanium Dioxide.
Allergen Advice: See ingredients listed in bold.
This product is not suitable for vegetarians or vegans.
Storage:      
Replace cap firmly after use and store in a cool, dry place. Protect from light and heat.
Important:      
Do not exceed the stated daily intake.
Keep supplements safely out of sight and reach of children. Food supplements should not be used as a substitute for a varied diet and healthy lifestyle.