Vitamin B Complex - Club Vits Fill Good
✔  Premium Quality Tablets 
✔  Keep Fresh Tub
✔  A Year's Supply or More
Description
Contains 100% recommended daily intake of 8 key B-Vitamins. This product includes Thiamin, Riboflavin, Niacin, Vitamin B6, Folic Acid, Vitamin B12, Biotin & Pantothenic Acid. B-Vitamins are water-soluble, this means that they are not stored by the body & a consistent daily intake is important. This specific combination of 8 vitamins are included in the 13 key vitamins which are needed in the body. Vitamin B12 deficiency is common among vegetarians & vegans as it not found in plant food other than fortified cereals, however it is abundant in meats & fish with smaller amounts in milk & egg.
B-Vitamins are well known for assisting the body to release energy from food. Certain B-Vitamins (Folic Acid, Niacin, Pantothenic Acid, Riboflavin, Vitamin B12 & Vitamin B6) also help to reduce tiredness & fatigue. B-Vitamins also have a range of other health benefits. Thiamin is also known as Vitamin B1 & Niacin help to support the nervous system. Riboflavin is also known as Vitamin B2 which helps to keep the skin healthy & supports vision as well as releasing energy from food. Pantothenic acid contributes to mental performance. Vitamin B6 contributes to normal psychological function & the function of the immune system as well as regulating hormonal activity & contributes to red blood cell formation.  Biotin is commonly used in beauty supplements as it helps to support hair & skin. Folic acid is important in assisting in the production of red blood cells. Vitamin B12 is important for the function of the nervous system & utilising folic acid intake.
Adults who are looking to increase general energy levels & reduce tiredness & fatigue. Ideal for those who have busy & active lifestyles. Suitable for Vegetarians & Vegans.

Great Value. 
Our bundle options have been specially selected based on our bestselling products. This gives you the option to purchase quantities dependant on your demands. By offering a bundle of product we are able to provide you with the market leading price you have come to expect from Club Vits.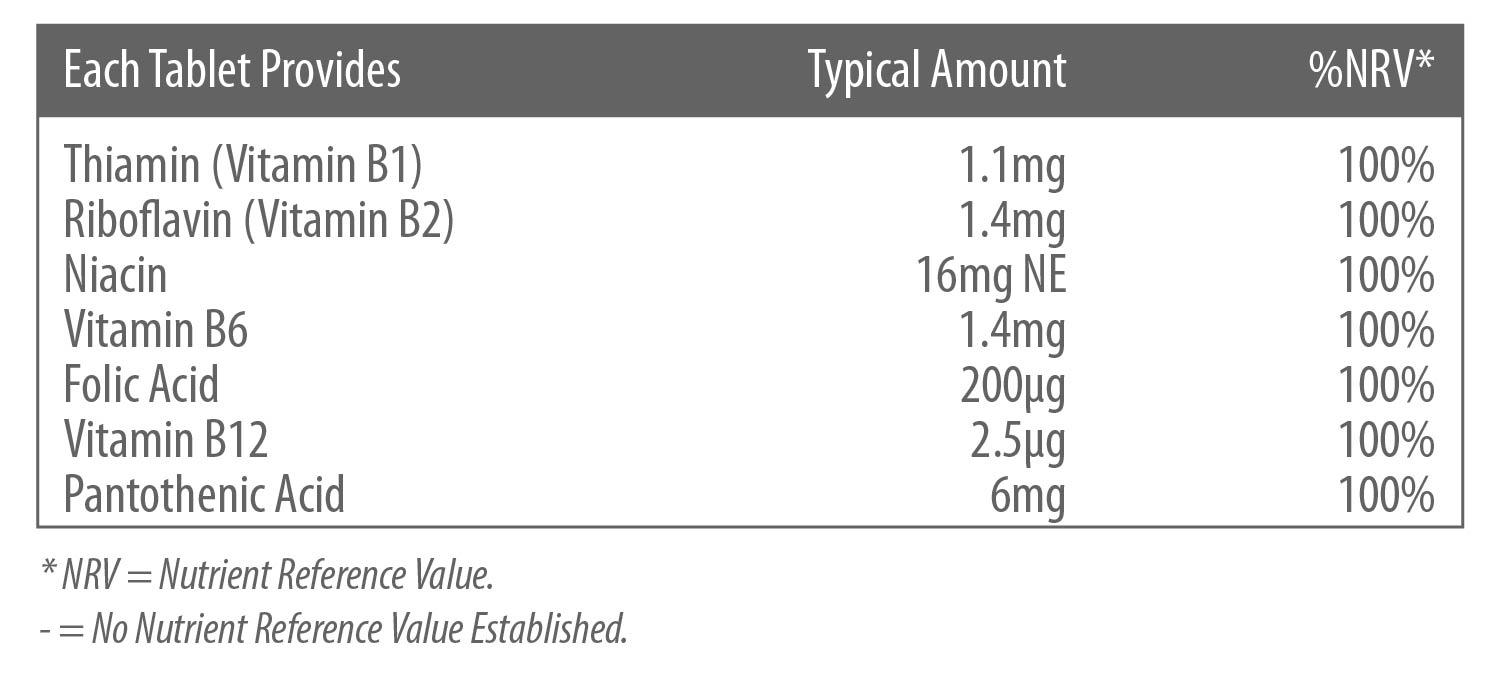 Directions: 
Adults and Children over 12 years: Swallow one tablet daily with food. Do not exceed the stated daily intake.
Ingredients: 
Calcium Carbonate, Maltodextrin, Microcrystalline Cellulose, Nicotinamide, Calcium Pantothenate, Pyridoxine Hydrochloride, Thiamine Hydrochloride, Riboflavin, Magnesium Stearate, Anti-Caking Agent (Silicon Dioxide), Folic Acid, Biotin, Cyanocobalamin.
Storage:
Store in a cool, dry place out of sight and reach of children.
Important: 
Food supplements should not be used as a substitute for a varied diet and healthy lifestyle.