Amplify - The Mane Event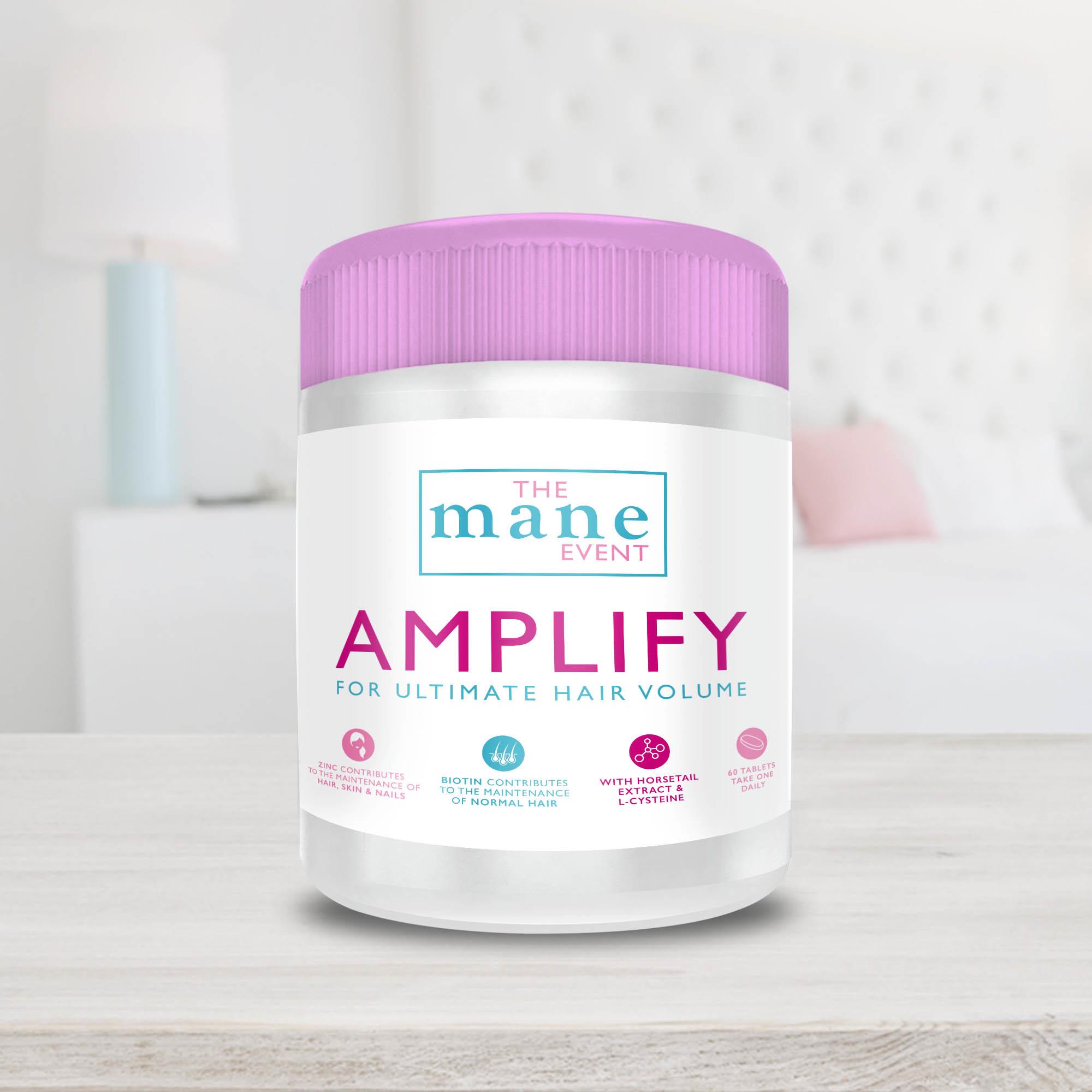 ❤ Reach your beauty goals with The Mane Event Amplify
❤ Premium Quality
❤ Easy to Swallow Tablets
❤ Vegan & Vegetarian friendly
What is Amplify by The Mane Event?
Amplify Hair Volume has been carefully developed by our expert team of formulation scientists in conjunction with nutritionists and hair care professionals, using years of collective knowledge and experience. The result of which is a comprehensive and distinct multivitamin purposely chosen to benefit hair health.

Amplify Hair Volume contains a special formula of vitamins and minerals to care and nourish your hair, helping it to feel healthier and fuller! Contains super strength (6000% NRV) Biotin, which as well as Zinc and Selenium, contributes to the maintenance of normal hair. Copper contributes to normal hair pigmentation.

Alongside this, our product contains Vitamin C which contributes to normal collagen formation for the normal function of skin. Vitamin A, Biotin and Zinc also contribute to the maintenance of normal skin, whilst Copper contributes to normal skin pigmentation - an added bonus!

In addition, each tablet also contains 10mg L-cysteine, a semi-essential amino acid which has an important structural role in many proteins. L-Cysteine is an amino acid that together with other amino acids, helps in the formation of the protein keratin, the main constituent of hair.

Women of all ages can support their beauty regime with Amplify Hair Volume for well nourished, luscious hair.
Each Tablet Typically Provides:
Vitamin A, 320μg RE, 40%*
Vitamin D3, 5μg, 100%*
Vitamin E, 40mg a-TE, 333%*
Vitamin C, 60mg, 75%*
Riboflavin (Vitamin B2), 14mg, 285%*
Niacin, 18mg NE, 112%*
Folic acid, 200μg, 100%*
Biotin, 45μg, 190%*
Pantothenic acid, 40mg, 666%*
Iron, 12mg, 85%*
Zinc, 15mg, 150%*
Copper, 1000μg, 100%*
Selenium, 100μg, 181%*
Iodine, 200μg, 133%*
L-Cysteine, 10mg, -
Horsetail (Equisetum arvense L.) Extract, 150mg, -
Green Tea (Camellia sinensis) Extract, 75mg, -
* = Nutrient Reference Value
- = No Nutrient Reference Value Established
Directions:
Adults and Children over 12 years: Swallow one tablet daily, with food. Do not exceed the daily dose.
Ingredients:
Calcium Carbonate, Horsetail (Equisetum arvense L.) Extract, Microcrystalline Cellulose, Green Tea (Camellia sinensis) Extract**, DL-Alpha-Tocopheryl Acetate, Ascorbic Acid, Maltodextrin, Calcium Pantothenate, Modified Maize Starch, Acacia Gum, Ferrous Fumarate, Hydroxy Propyl Methyl Cellulose, Nicotinamide, Zinc Oxide, L-Cysteine Hydrochloride Monohydrate, Magnesium Stearate, Anti-Caking Agent (Silicon Dioxide), Colours (Titanium Dioxide, Iron Oxides), Talc, Riboflavin, Copper Sulphate Pentahydrate, Humectant (Glycerol), Sucrose, Maize Starch, Silicon Dioxide, Retinyl Acetate, Potassium Iodide, Folic Acid, Sodium Selenite, DL-Alpha-Tocopherol, Biotin, Cholecalciferol.
Storage: 
Store in a cool & dry place. 
Important Information: 
"If pregnant or breast-feeding, taking medication or have any medical condition, ask a health professional  before use. Do not use if safety seal under cap is torn or missing. Keep out of reach of children. "