Joint Care Bundle Pack - Club Vits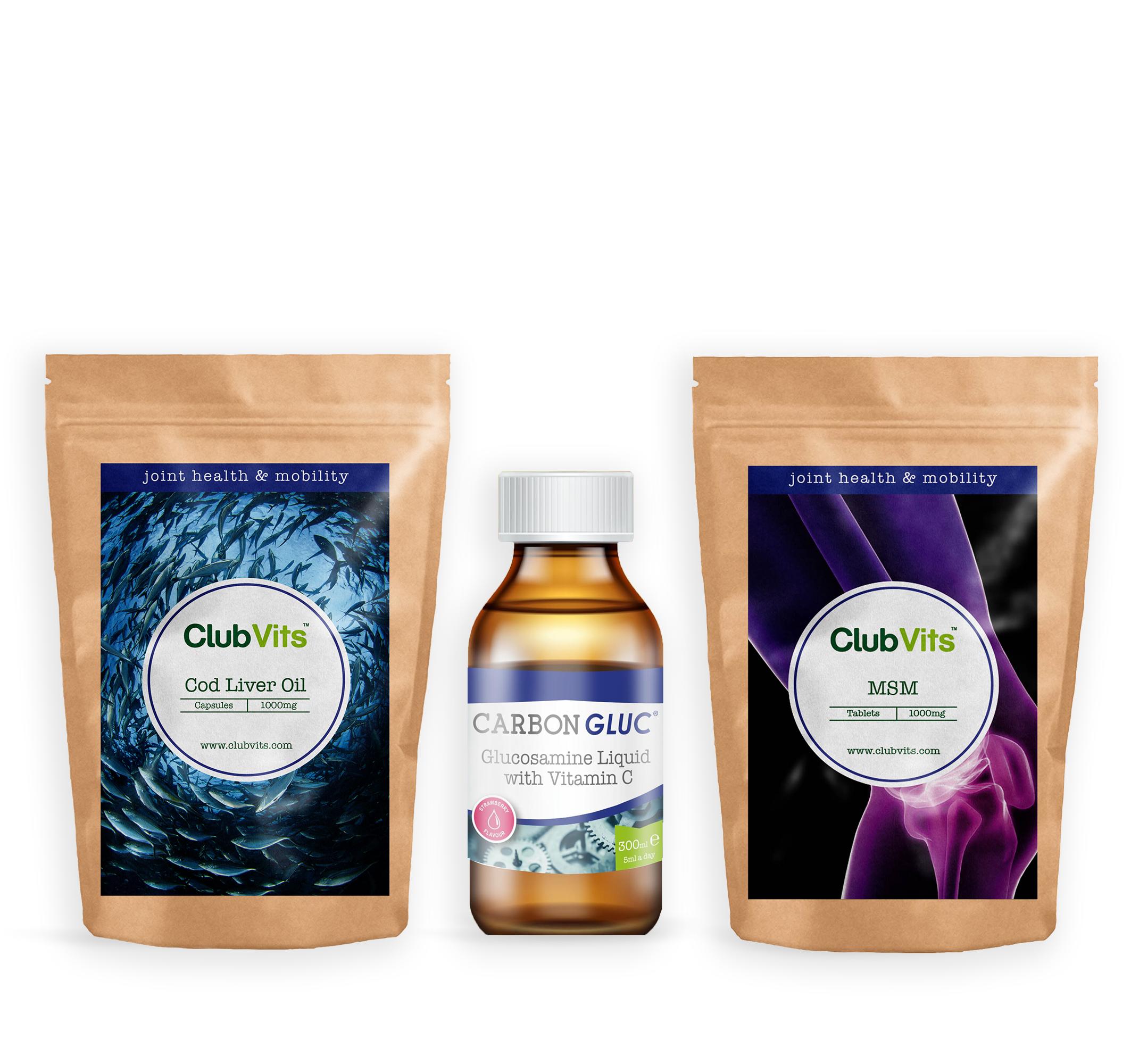 ✔  Premium Quality
✔  Supports Brain & Joint Health
✔  Great Value For Money




Description:
Our premium quality, High Strength 1000mg Cod Liver Oil capsules contain a high concentration of Omega-3 fatty acids. with 80mg of EPA and 80mg of DHA. These important fatty acids have cardioprotective benefits and contribute to brain function and joint mobility. These capsules are also high in Vitamins A and D which contribute to normal; skin, vision, bones muscles and teeth. 
Methylsulphonylmethane (MSM) is a naturally occuring chemical found in plants, animals, and humans, providing a source of sulphur.
Our Glucosamine Liquid is designed support health of your joints and the cartilage with 750mg of Glucosamine per 5ml serving. Both joint & cartilage health are important for long term wellbeing and capability to maintain & enjoy an active lifestyle.
Great Value Bundle Contains 1 Pack of 90 MSM Tablets, 1 Pack of 90 Cod Liver Oil Tablets and 1 x 300ml Bottle of Glucosamine Liquid!
Directions:
Adults and children over 12 years: Swallow one capsule/tablet daily, with food. Do not exceed the stated daily intake.
Adults: Take 1 teaspoons per day (5ml) added to a small glass of water (150 -200ml) to create a great tasting strawberry drink. Can be further diluted to taste. Once opened keep refrigerated and consume within 4 weeks

Ingredients:
Cod Liver Oil - Cod (Fish) Liver Oil, (Fish) Body Oil, Beef Gelatin (Bovine Bone), Glycerine, Retoinol Palmitate, Palm Oil, Antioxidants, Corn Oil, DL-Alpha-Tocopherol, Cholecalciferol.
MSM - MSM (Crustaceans), Microcrystalline Cellulose, Dicalcium Phosphate, Magnesium Sterate, Stearic Acid. 
Glucosamine Liquid - Water, Sweeteners (Sorbitol, Sucralose), Glucosamine Hydrochloride (Crustacean Shellfish), Blackcurrant Juice Concentrate, Ascorbic Acid, Flavouring, Preservatives (Potassium Sorbate, Sodium Benzoate), Acidity Regulators (Citric Acid, Trisodium Citrate) 

Allergy Advice: 
See ingredients in bold.

Storage:
Store in a cool, dry place out of sight and reach of children.

Important:
Food supplements should not be used as a substitute for a varied diet and healthy
lifestyle.