Kids 3 Month Supply Bundle Pack - Club Vits Kids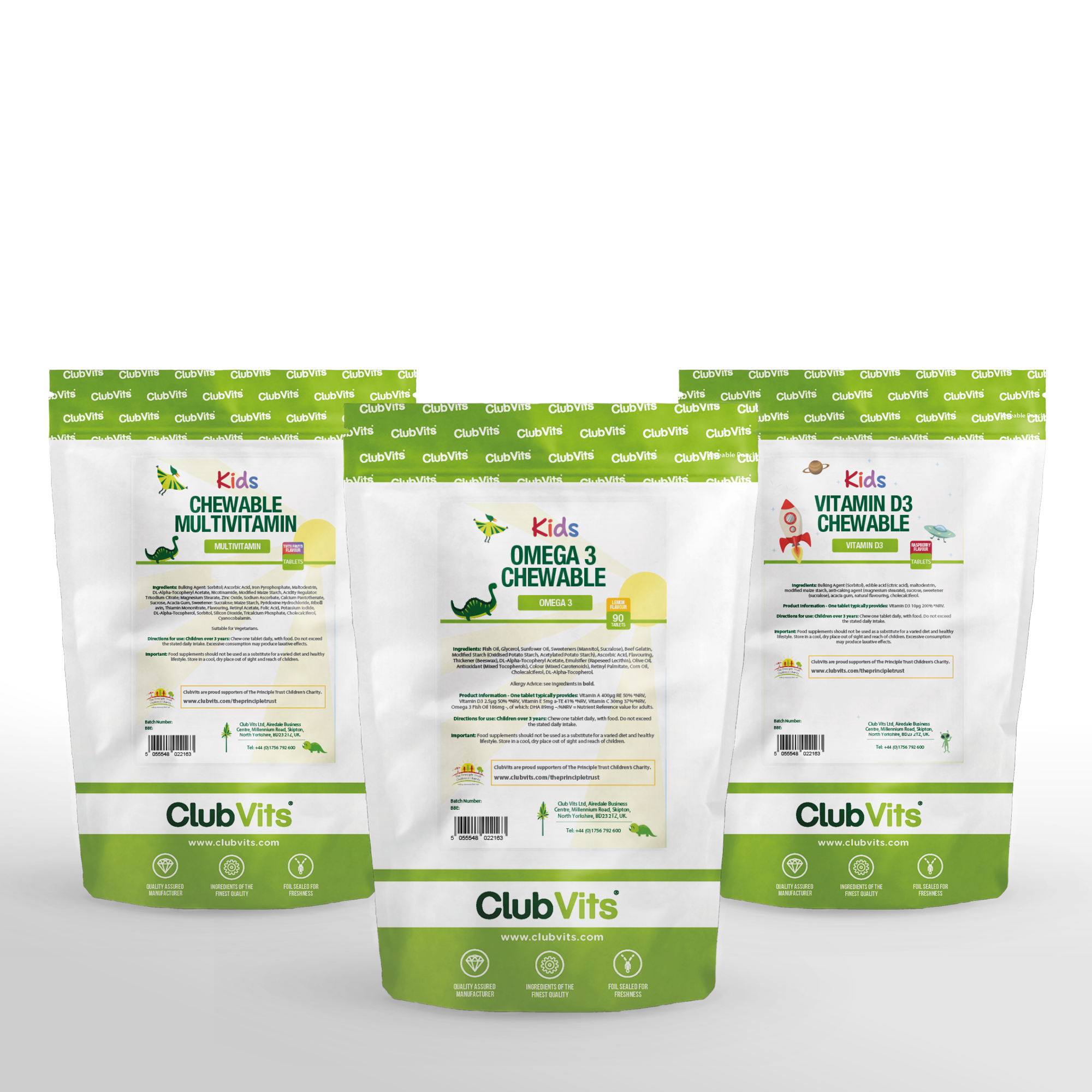 ✔ Chewy Sherbert Lemon Flavoured Capsules
✔ Chewy Tutti Frutti Flavoured Tablets
✔ Chewy Raspberry Flavoured Tablets
✔ Premium Quality
✔ Supports Growth and Development in Children
The Department of Health recommends that all children should be given a daily supplement of Vitamin D.
Vitamin D helps regulate the amount of calcium and phosphate in the body and is to keep bones, teeth and muscles healthy.
Omega 3 fish oils are rich in the essential fatty acids eicosapentaenoic acid (EPA) and docosahexaenoic acid (DHA), which support the general growth and development of children.]
Great Value Bundle Contains -  1 Pack of 90 Omega 3, 1 Pack of 90 Vitamin D & 1 Pack of 90 Multivitamins!
Directions: 
Adults and Children over 3 years: Chew, burst and swallow one capsule/tablet a day. Do not exceed the recommended daily dosage.
Ingredients: 
Omega 3 - Fish Oil, Glycerol, Sunflower Oil, Sweeteners (Mannitol, Sucralose), Beef Gelatin, Modified Starch (Oxidised Potato Starch, Acetylated Potato Starch), Ascorbic Acid, Flavouring, Thickener (Beeswax), DL-Alpha-Tocopheryl Acetate, Emulsifier (Rapeseed Lecithin), Olive Oil, Antioxidant (Mixed Tocopherols), Colour (Mixed Carotenoids), Retinyl Palmitate, Corn Oil, Cholecalciferol, DL-Alpha-Tocopherol.
Vitamin D - Bulking Agent (Sorbitol), edible acid (citric acid), maltodextrin, modified maize starch, anti-caking agent (magnesium stearate), sucrose, sweetener (sucralose), acacia gum, natural flavouring, cholecalciferol. 
Multivitamin - Bulking Agent: Sorbitol; Ascorbic Acid, Iron Pyrophosphate, Maltodextrin, DL-Alpha-Tocopheryl Acetate, Nicotinamide, Modified Maize Starch, Acidity Regulator: Trisodium Citrate; Magnesium Stearate, Zinc Oxide, Sodium Ascorbate, Calcium Pantothenate, Sucrose, Acacia Gum, Sweetener: Sucralose; Maize Starch, Pyridoxine Hydrochloride, Riboflavin, Thiamin Mononitrate, Flavouring, Retinyl Acetate, Folic Acid, Potassium Iodide, DL-Alpha-Tocopherol, Sorbitol, Silicon Dioxide, Tricalcium Phosphate, Cholecalciferol, Cyanocobalamin.  
Allergy Advice: 
See ingredients in bold. 
Storage:
Store in a cool, dry place out of sight and reach of children. Do not refrigerate.
Important: 
Food supplements should not be used as a substitute for a varied diet and healthy lifestyle.