Hot or Shot - Lemon, Lime & Honey Flavour - MANFLU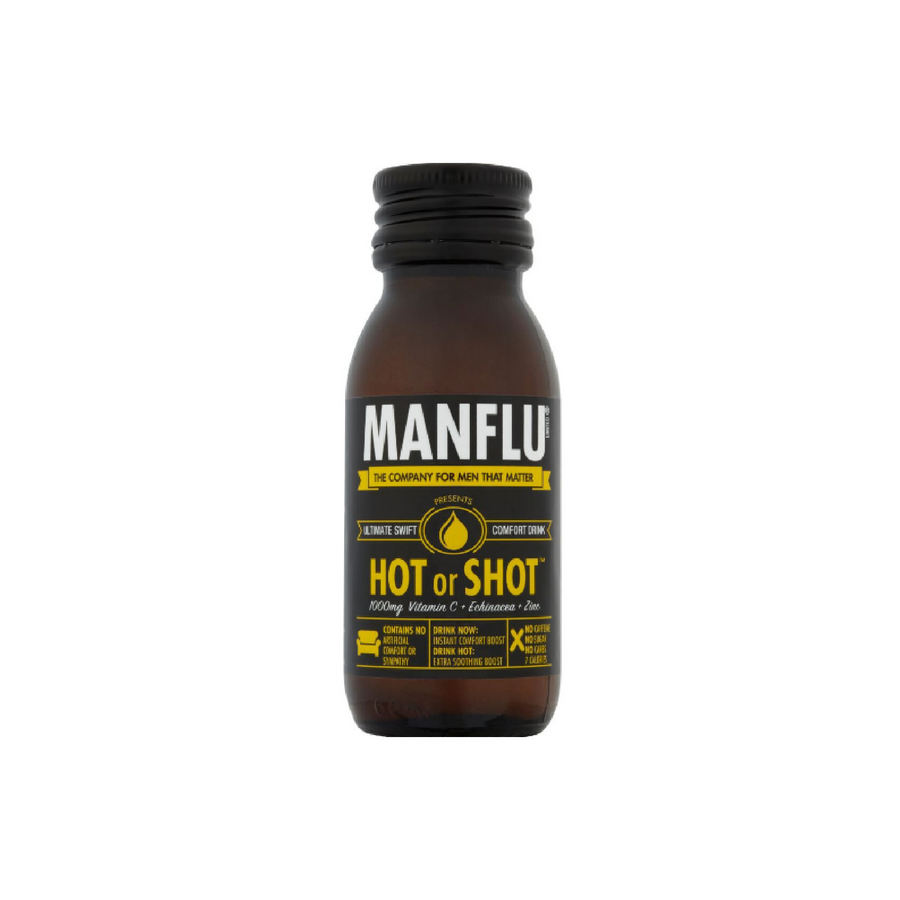 ✔ Premium Quality 
✔ Great Tasting
✔ Great Price
The world's most soothing drink - for men that matter. Natural Lemon-Lime & Honey drink with a high dose 1000 mg Vitamin C + Echinacea and Zinc.
Attempt to create granny's 'secret' recipe? Tut! Make life easy. Try MANFLU Hot or Shot.
Our amber glass 60 ml bottle has two purposes, to protect the proprietary blend inside and to enable you to drink it as a convenient 'on the go' shot. With 1250% RDA* of Vitamin C to help support immune function + Echinacea + Zinc. The product provides an instant comfort boost.
Description:
Hot or Shot contains more Vitamin C than 12 oranges. It contains no Caffeine or Sugar and no artificial colour or flavours. Hot or Shot is suitable for vegetarians. Contains no artificial comfort or sympathy.
Each 60ml serving Typicaly Provides: 
Vitamin C 1000mg (1250% NRV*)
Zinc 7.5mg (75% NRV*)
150mg Echinacea 

NRV* = Nutrient Reference Value
Directions:
For the ultimate soothing boost try it HOT. Simply pour the whole bottle in a mug and add hot water from the kettle. Ready in seconds. Misery? No! Try this soothing drink.
Ingredients:
Water, Proprietary Blend [Vitamin C, Natural Flavouring, Echinacea Extract (250mg/100ml), Safflower Extract (80mg/100ml), Zinc Citrate], Flavour Enhancer (Citric Acid), Stabiliser (Cellulose Gum), Flavour Enhancer (Malic Acid), Sweeteners (Acesulfame K, Sucralose), Preservative (Potassium Sorbate).
Storage:
Store in a cool, dry place. Suitable for Vegetarians. 
Important:
Consume entire bottle at one time. Recommend: 1 bottle per day. Keep out of reach of young children. Not a substitute for a varied, balanced diet or healthy lifestyle. Not a medicine. Do not use if seal is broken.