Multivitamin & Mineral Effervescent - Orange Flavour

  Orange Flavour  

✔  Dissolve Quickly 
✔  Great, Refreshing tasting 
✔  General Health & Wellbeing


Club Vits Multivitamin & Mineral Effervescent (20 Tablets)
This product is a delicious effervescent multivitamin tablet designed to provide essential everyday vitamins. Formulated with B6 and B12 to contribute to normal energy-yielding metabolism and the reduction of tiredness and fatigue.
These effervescent tablets are a great way of taking vitamins as they are easily absorbed by the body and the great taste makes them easy to consume. They are a great option for those who struggle swallowing tablets. 


What are the benefits?

> Bone & Muscle Health: Vitamin D3 contributes to the maintenance of healthy bones, teeth and muscle function as well as normal blood calcium levels.
> Heart Function: Thiamine contributes to the normal function of the heart.
> Immune Health: Vitamin C helps maintain the normal function of the immune system.
> Mental Performance: Pantothenic acid contributes to normal mental performance.
> Reduction of Tiredness & Fatigue: Niacin contributes to the reduction of tiredness and fatigue.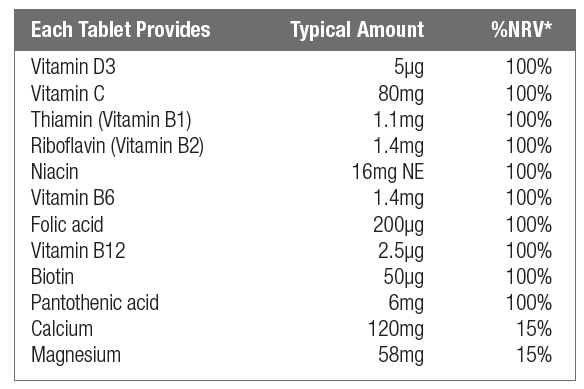 *NRV = E.U. Nutrient Reference Value.
Directions:
Adults and children over 12: Dissolve one tablet in a 200ml glass of water daily, to make a refreshing drink. Do not exceed the stated daily intake.

Ingredients:
Citric Acid, Acidity Regulator (Sodium Hydrogen Carbonate),  Bulking Agent (Sorbitol), Calcium Carbonate, Polyethylene Glycol, Maltodextrin, Magnesium Oxide, Ascorbic Acid, Sweeteners (Aspartame*, Acesulfame K), Nicotinamide, Flavouring, Colour (Beetroot Red), Acaia Gum, Calcium Pantothenate, Pyridoxine Hydrochloride, Riboflavin, Thiamine Mononitrate, Modified Maize Startch, Folic Acid, Sucrose, Biotin, Cholecalciferol, Cyanocobalamin.
* Contains a source of Phenylalanine. 

Storage:
Store in a cool, dry place not exceeding 25°C and out of sight and reach of children.

Important:
Do not use if cap seal is broken. Keep out of sight and reach of children. Food supplements should not be used as a substitute for a varied diet and healthy lifestyle. Excessive consumption may produce laxative effects. Desiccant grains are enclosed in the cap to keep the tablets dry. Store in a cool, dry place not exceeding 25°C.