Skin Hair & Nails Tablets - Principle
✔ Premium Quality Tablets
✔ Contains 20 Specific Micro Nutrients
30 Multivitamin & mineral food supplement tablets with Beta Carotene & L-Cysteine
Principle Skin, Hair & Nails provides your body with 20 specific micronutrients to support and nourish the building blocks of your skin, hair and nails. In doing so, these nutrients help to optimise the health and appearance of your skin, hair and nails, keeping you looking radiant from the inside. 
Vitamin C for collagen formationfor normal skin.

Selenium helps to maintain normal hair & nails.

Zinc for skin, hair & nails.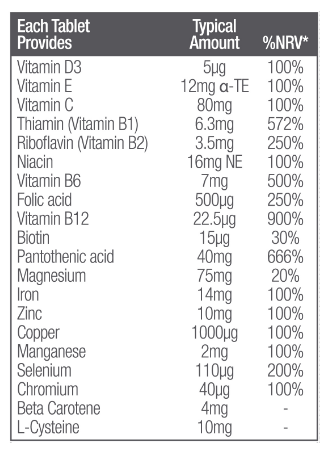 *NRV = Nutrient Reference Value
- = No Nutrient Reference Value Established
Directions:
Adults and children over 12 years: swallow one tablet daily, with food. Do not exceed the stated daily intake.
Ingredients:
Microcrystalline Cellulose, Dicalcium Phosphate Dihydrate, Magnesium Oxide, Ascorbic Acid, Maltodextrin, Calcium Pantothenate, Ferrous Fumarate, Modified Maize Starch, DL-Alpha-Tocopheryl Acetate, Hydroxy Propyl Methyl Cellulose, Nicotinamide, L-Cysteine Hydrochloride Monohydrate, Zinc Oxide, Thiamin Hydrochloride, Pyridoxine Hydrochloride, Magnesium Stearate, Anti-Caking Agent (Silicon Dioxide), Colour (Titanium Dioxide), Manganese Sulphate Monohydrate, Talc, Maize Starch, Beta-Carotene, Copper Sulphate Pentahydrate, Riboflavin, Humectant (Glycerol), Glucose Syrup, Folic Acid, Sodium Ascorbate, DL-Alpha-Tocopherol, Sodium Selenite, Chromium Chloride Hexahydrate, Sucrose, Silicon Dioxide, Cyanocobalamin, Biotin, Cholecalciferol.
Suitable for vegetarians.
No artificial colours, flavours or preservatives.
Important:
Check that the blister seal is intact before first use. Keep out of sight and reach of children. Food supplements should not be used as a substitute for a varied diet and healthy lifestyle. Contains Iron, which if taken in excess can be harmful to young children. Store in a cool, dry place not exceeding 25°C.