Kids Omega-3 & Multivitamins Soft Gummies - Simple Daily Vitamin Club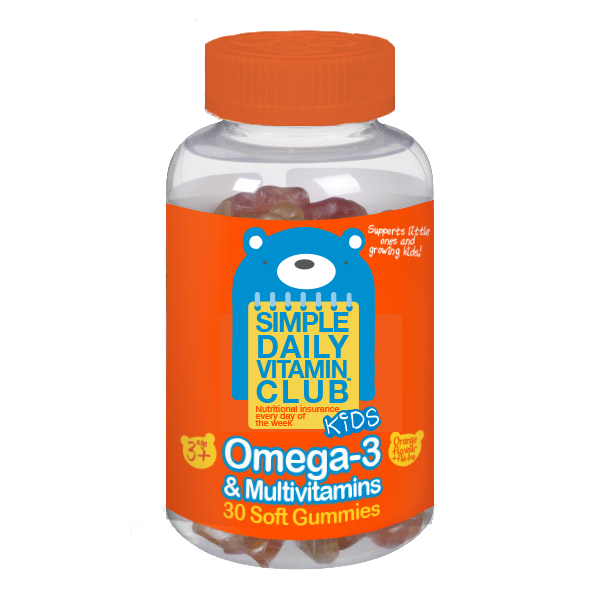 ✔ Premium Quality
✔ Great Tasting
✔ Specially Formulated For Children
At the Simple Daily Vitamin Club we make taking supplements easier, tastier & more fun. 'Nutritional Insurance' every day of the week.
Why Take Them?
These soft, tasty orange flavour OMEGA-3 MULTIVITAMIN GUMMIES give kids 8 important vitamins, including vitamin D.
Vitamin D helps support immune system function and contributes to normal growth and development of bone in children. PLUS A FISH FREE source of omega-3 fatty acids so you can feel good about taking them - every day of the week.
Each Gummie Typically Provides:
Vitamin A, 200µg RE, 200%*
Vitamin D3, 1.25µg, 25%*
Vitamin E, 3mg a-TE, 25%*
Vitamin C, 30mg, 37.5%*
Niacin, 4mg NE, 25%*
Vitamin B6, 0.7mg, 50%*
Vitamin B12, 1.25µg, 50%*
Pantothenic Acid, 3mg, 50%*
Flaxseed Oil, 110mg, -
     Providing, 50mg, -
Omega-3 nutrients 
* = Nutrient Reference Value 
How to Take?
CHILDREN 3-6 YEARS: Chew 1 soft gummie pastille daily.
CHILDREN 7-12 YEARS: Chew 1 to 2 soft gummie pastilles daily.
Can be taken every day of the week, every week of the year.
Ingredients: 
Glucose Syrup, Sucrose, Water, Gelatin (Bovine), Flaxseed Oil, Sweetener (Sorbitol), Vitamin C, Gelling Agent (Agar), Acidity Regulator (Citric Acid), Natural Flavouring (Orange Flavouring), Vitamin E Prep. (Vitamin E Acetate, Sunflower Seed Oil), Calcium Pantothenate, Nicotinamide, Colours (Beta Carotene Prep. (Water, Soya Lecithin, Sunflower Seed Oil, Beta Carotene), Carmine Prep. (Water, Carmine, Potassium Hydroxide, Citric Acid, Maltodextrin)), Glazing Agents (Coconut Oil, Rapeseed Oil, Carnauba Wax), Vitamin B12 Prep. (Maltodextrin, Sodium Citrate, Citric Acid, Vitamin B12), Vitamin B6, Vitamin A Prep, (Fully Refined Soybean Oil, Vitamin A Acetate, BHT), Sunflower Seed Oil, Vitamin D3.
Allergy Advice: See ingredients in bold.
Important:
KEEP OUT OF SIGHT AND REACH OF CHILDREN. Adults, yes you can take them, but this product does contain Vitamin A. Do not take if you are pregnant, likely to become pregnant except on the advice of a doctor or other healthcare professional. Do not exceed the recommend daily dose. Not a substitute for a healthy lifestyle and varied diet. Do not use if the tamper evident seal is broken before first use. Store in a cool, dry place and protect from light and heat.