SLIM-NITE - 45 Capsules - Power Health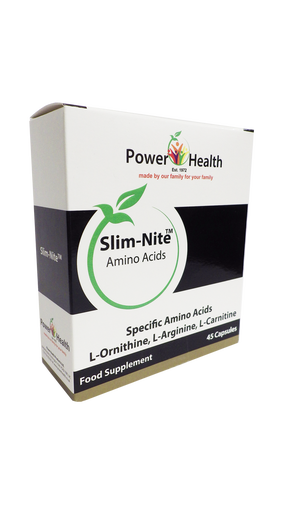 ✔ Premium Quality Capsules
✔ Diet Supplements
A diet supplement to take before going to sleep. The capsules contain 3 different amino acids; L Ornithine, L Arginine, & L Carnitine.
L Ornithine & L Arginine: These amino acids are found in the body, and play an important role in metabolism. They were selected because they enhance secretion of human growth hormone (hGH) produced by the pituitary gland in the brain. This hormone which has a surge in production during sleep, controls growth and development in childhood and adolescence, and helps convert the food we eat into energy and lean muscle tissue, rather than storing it as fat. Low levels of hGH partly explain our tendency to put on weight as we get older. hGH levels are often five times lower in overweight people than in people of a normal weight. 
L Carnitine: This amino acid is included because it plays a vital role in the transfer of body fat into cells to be used as fuel. Recent research suggests that Carnitine is a normal constituent of the body where it plays a vital role in converting stored body fat into energy by transferring fatty acids across the membranes of the mitochondria (powerhouse) of the cell where they can be used for fuel.
Each capsule typically provides: 
L-ORNITHINE 250MG;
L-ARGININE 250MG;
L-CARNITINE 25MG. 
Directions:
Take three capsules as a food supplement every evening before going to sleep. Take these capsules with juice or water - no protein.
Ingredients:
L Ornithine HCl, L Arginine HCl, Capsule Shell (Gelatin), L Carnitine L Tartrate, Anti-Caking Agent: Magnesium Stearate, Silica.
Storage:
Store in a cool, dry place out of the sight and reach of children.