Energy Release Effervescent - Tropical Flavour - Club Vits

  Tropical Flavour   

✔  8 B-Vitamins to support energy levels  
✔  On-the-go product for an active & busy lifestyle  
✔  Excellent quality at an affordable price 



Description
In a quick and easy effervescent form, this product contains 100% RDI of 8 key B-Vitamins, including Thiamin, Riboflavin, Niacin, Vitamin B6, Folic Acid, Vitamin B12, Biotin & Pantothenic Acid. 
Due to their water-soluble nature, B-Vitamins are not stored in the body so must be replaced daily. 
This formulation contails 8 of the 13 key vitamins required by the body, including vitamin B12 which is often deficient among vegetarians and vegans due to its largest presence in meat, fish and dairy.  
What are the health benefits? 
B vitamins are commonly known for assisting the body in releasing energy stored in food. 
> Energy: The B Vitamins Thiamin, Riboflavin, Niacin, Vitamin B6, B12 and Pantothenic acid contribute to normal energy-yielding metabolism, alongside Vitamin C, Calcium and Magnesium. 
> Tiredness: Riboflavin, Niacin, Vitamin B6 and B12 also contribute to a reduction of tiredness and fatigue. 
> Immune: Vitamin C, Folic acid and Zinc contributing to the normal function of the immune system.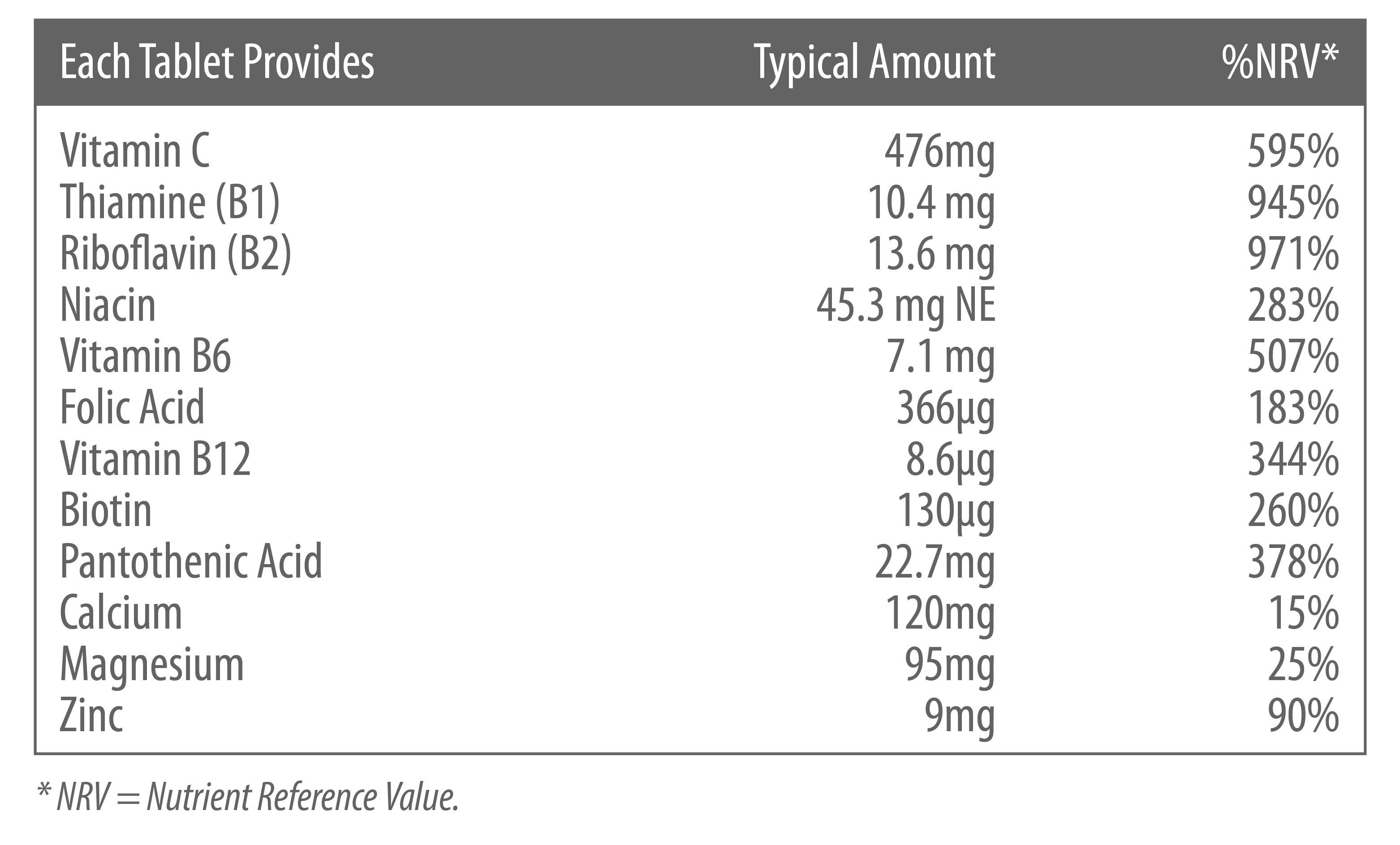 Directions:      
Adults and children over 12 years: Dissolve one tablet in a 200ml glass of water daily, to make a refreshing drink. Do not exceed the stated daily intake.   

Ingredients:   
Citric Acid, Ascorbic Acid, Acidity Regulator (Sodium Hydrogen Carbonate), Calcium Carbonate, Bulking Agent (Sorbitol), Polyethylene Glycol, Magnesium Oxide, Maltodextrin, Nicotinamide, Sweeteners (Aspartame**, Acesulfame K), Calcium Pantothenate, Colour (Beetroot Red), Flavouring, Thiamin Hydrochloride, Riboflavin, Zinc Oxide, Pyridoxine Hydrochloride, Acacia Gum, Folic Acid, Biotin, Cyanocobalamin. ** Contains a source of phenylalanine. 

Storage:    
Store in a cool, dry place not exceeding 25°C. 

Important:    
Do not use if cap seal is broken. Keep out of sight and reach of children. Food supplements should not be used as a substitute for as varied diet and healthy lifestyle. Excessive consumption may produce laxative effects. This product may leave a white residue; swill glass to prevent it from settling and drink as normal. Desiccant grains are enclosed in the cap to keep tablets dry.