Hair Bear Gummies - The Mane Event
❤ Reach your beauty goals with The Mane Event Hair Bears
❤ 13 selected vitamins, minerals and natural ingredients for Hair, Skin & Nails
❤ Each fun shaped blue bear has a delicious natural berry flavour.
❤ Vegan & Vegetarian friendly
❤ Gluten Free
❤ Palm oil free
❤ Yeast free
❤ Wheat free
What are Hair Bear Gummies by The Mane Event?
Perfect for all types, textures & colours of hair; promote longer, stronger & shinier locks for better hair days. Supplementing your beauty regime with two gummies a day supports healthy hair growth & thickness, the maintenance of colour & scalp condition all of which is important to get that lustrous shine. 
Each pack contains 60 gummies, we recommend that you take two bear gummies per day, this will last you 30 days. Our customers tell us that The Mane Event Hair Bears are best used over 3 months to experience the benefit for Hair, Skin & Nails radiance. This is due the normal hair & skin regeneration cycles. 
The Mane Event Hair Bears are your answer to beautiful Hair, Skin & Nails, three benefits in one solution. Biotin is essential in contributing to the maintenance of normal, healthy hair. Each daily dose contains high levels of Biotin (5000µg). Vitamin C contributes to collagen formation within the skin, this helps to keep you skin glowing. Zinc contributes to the maintenance of hair, skin & nails for overall radiance.  Also contains Copper contributes to maintaining skin & hair pigmentation. Vitamin A, & Iodine contribute to maintaining normal skin. 
Suitable for Adults over 12 years, all hair types, textures & colours. Perfect from those looking to improve hair condition.  The Pectin based gummy is also suitable for vegetarians. 
Great Value Bundles!
This gives you the option to purchase quantities dependant on your demands. By offering a bundle of product we are able to provide you with the market leading price you have come to expect from Clubvits.
Available in 1, 2, 3, 4, 5, 6 months & 1 years supply!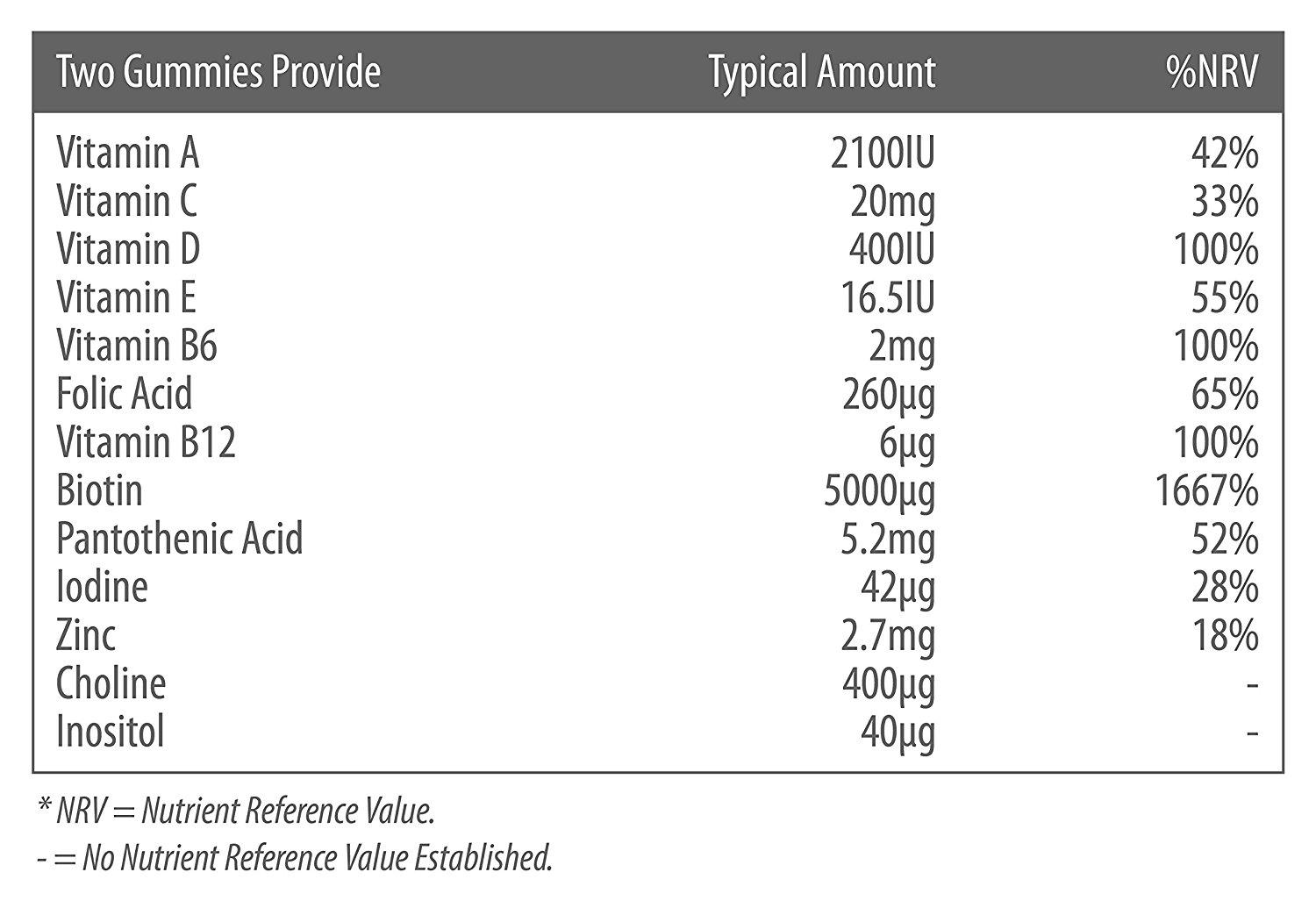 Directions:
Adults: Chew two gummies per day. 30 Servings per container. 
Ingredients:
"Malt Syrup, Sugar, Glucose, Pectin, Titanium Dioxide E171, Citric Acid, Sodium Citrate, Natural Flavours, Vegetable Oil (contains Carnauba Wax), Brilliant Blue E133."
Storage: 
Store in a cool & dry place. 
Important Information: 
"If pregnant or breast-feeding, taking medication or have any medical condition, ask a health professional  before use. Do not use if safety seal under cap is torn or missing. Keep out of reach of children. "