Vegan Healthcare Bundle - Great Value by Clubvits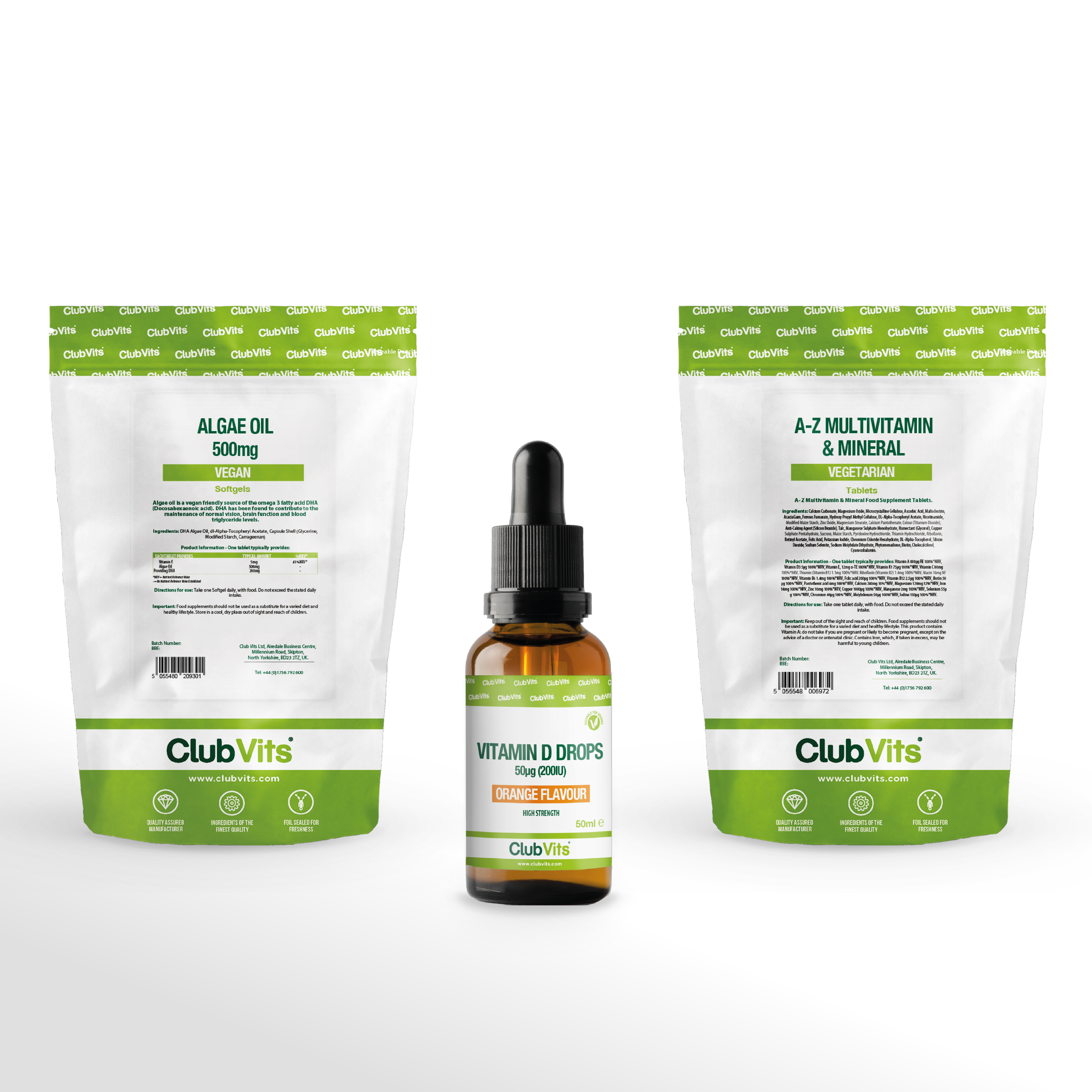 ✔ Premium Quality
✔ Suitable For Vegetarians & Vegans
✔ Multivitamin
✔ Vitamin D3 Orange Drops
✔ Algae Oil
High strength Vegan vitamin D drops provide 2000IU (1000% NRV). Oral vitamins enter the bloodstream directly and bypass the digestive system, resulting in a fast, straightforward method 
Algae oil is a vegetarian friendly source of the omega 3 fatty acid DHA (Docosahexaenoic acid). DHA has been found to contribute to the maintenance of normal vision, brain function and blood triglyceride levels. Our Algae Oil also provides Vitamin E which contributes to the protection of cells from oxidative stress
A comprehensive A-Z formulation in convenient one-a-day tablet. Each tablet provides includes 23 vitamins & minerals to support your health & wellbeing. This product provides Vitamin A, Vitamin D3, Vitamin E, Vitamin K1, Vitamin C, Thiamin, Riboflavin, Niacin, Vitamin B6, Folic acid, Vitamin B12, Biotin, Pantothenic acid, Calcium, Magnesium, Iron, Zinc, Copper, Manganese, Selenium, Chromium, Molybdenum & Iodine
Bundle Contains 1 Pack of 90 Multivitamins, 1 Pack of 30 Algae Oil and 1 Bottle of Vitamin D Drops
Directions:
Adults: Swallow one tablet daily, with food. Do not exceed the stated daily intake.
Ingredients:
Vitamin D Drops: Sunflower oil, Orange oil, Cholecalciferol, D alpha tocopherol. 
Multivitamin: Dicalcium Phosphate Dihydrate, Magnesium Oxide, Microcrystalline Cellulose, Ascorbic Acid, Acacia Gum, Ferrous Fumarate, Hydroxy Propyl Methyl Cellulose, Maltodextrin, DL-Alpha-Tocopheryl Acetate, Nicotinamide, Modified Maize Starch, Cross-Linked Sodium Carboxy Methyl Cellulose, Magnesium Stearate, Colours (Titanium Dioxide, Iron Oxides), Calcium Pantothenate, Anti-caking Agent (Silicon Dioxide), Talc, Zinc Oxide, Manganese Sulphate Monohydrate, Humectant (Glycerol), Copper Sulphate Pentahydrate, Sucrose, Maize Starch, Pyridoxine Hydrochloride, Thiamine Hydrochloride, Riboflavin, Retinyl Acetate, Folic Acid, Potassium Iodide, DL-Alpha-Tocopherol, Silicon Dioxide, Chromium Chloride Hexahydrate, Phytomenadione, Sodium Selenite, Sodium Molybdate Dihydrate, Cholecalciferol, Cyanocobalamin. 
Algae: DHA Algae Oil, dl-Alpha-Tocopheryl Acetate, Capsule Shell (Glycerine, Modified Starch, Carrageenan) 
Storage:
Store in a cool, dry place out of sight and reach of children.
Important:
Food supplements should not be used as a substitute for a varied diet and healthy lifestyle.