Kids Chewy Vitamins, A, B, C, D & E - Orange Flavour 30 x 6 - Vit Heroes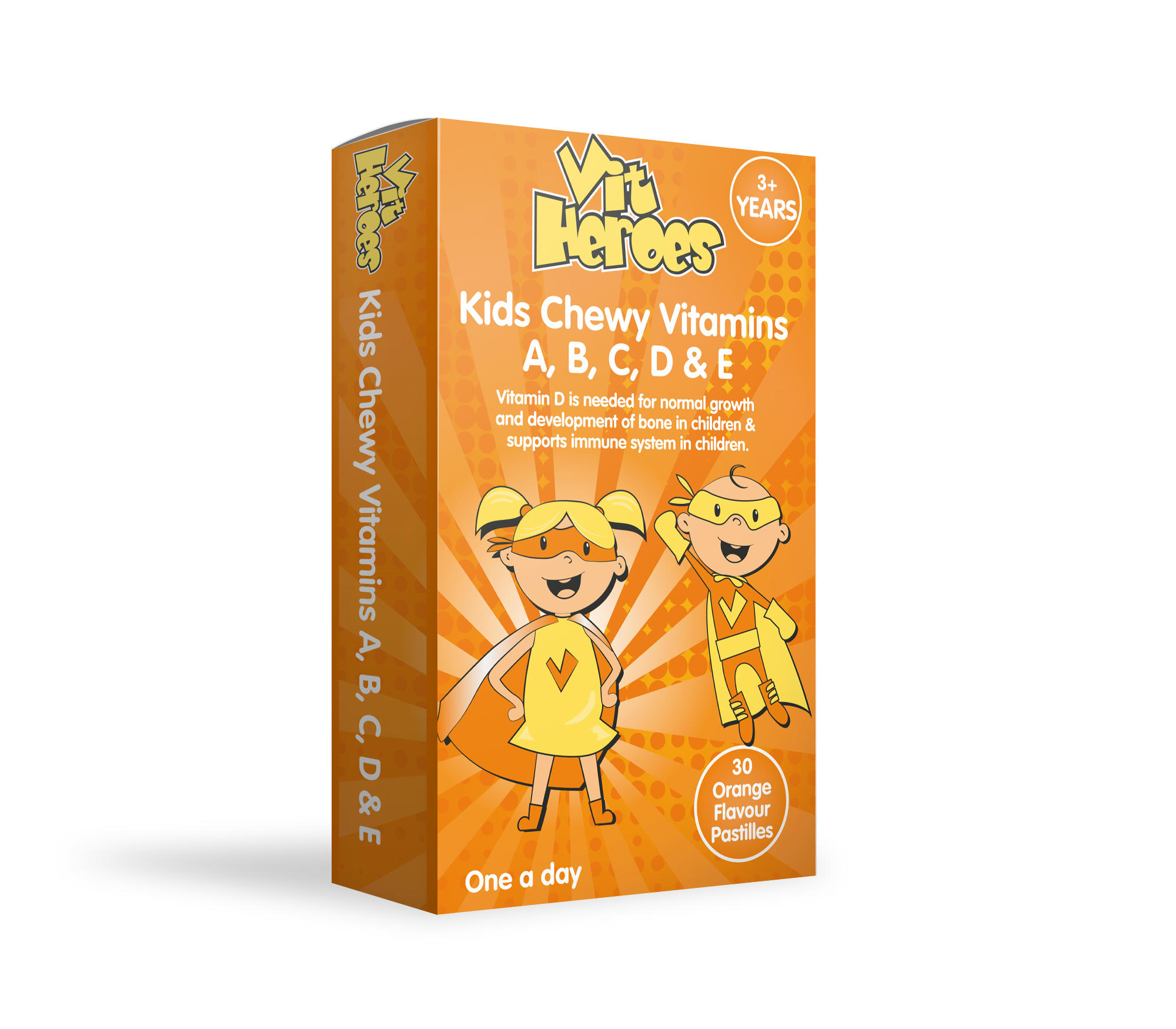 ✔ Premium Quality
✔ Great Tasting Chewable Pastille
✔ Multivitamin
30 Orange Flavour Vitamin A, B, C, D & E food supplement pastilles with sweeteners.
Vitamin D Is needed for normal growth and development of bone in children and contributes to the normal function of the immune system in children. 
Nutritional Information: Each pastille provides:
Vitamin A, 800µg RE, 100%*
Vitamin D3, 5µg, 100%*
Vitamin E, 12mg, α-TE, 100%*
Vitamin C, 80mg, 100%*
Vitmain B6 1.4mg, 100%*
* = Nutrient Reference Value
Directions for Use: Adults and children over 3 years: chew one jelly pastilles daily. Do not exceed the stated intake.
Ingredients: Sweeteners (Maltitol Syrup, Sorbitol Syrup, Sorbitol), Water, Ascorbic Acid, Beef Gelatin, DL-Alpha-Tocopheryl Acetate, Modified Maize Starch, Maltodextrin, Flavouring, Sucrose, Maize Starch, Acacia Gum, Pyridoxine Hydrochloride, Vegetable Oils (Coconut oil & Palm oil in varying proportions), Retinyl Acetate, Glycerol, Silicon Dioxide, Polysorbate 80, Sorbitan Monooleate, Glazing Agent (Carnauba Wax), DL-Alpha-Tocopherol, Colour (Mixed Carotenes), Rosemary Extract, Mixed Tocopherols, Tricalcium Phosphate, Cholecalciferol.
Important: Keep out of sight and reach of children. This product is contained within tamper evident blister strips. If blister strip is damaged or missing do not use. Replace blister strip in carton after use. Food supplements should not be used as a substitute for a varied and health lifestyle. Excessive consumption may produce laxative effects, This product contains Vitamin A: do not take if you are pregnant, or likely to become pregnant, except on the advice of a doctor or antenatal clinic. No artificial colours, flavours or preservatives.
Storage: Store in a cool, dry place. Protect from light and heat.