VIT360 - Energy Effervescent Tablets - Acai Berry Flavour
✔  1000mg Vitamin C
✔  Delicious Fruit Flavour
✔  Sugar Free


Energy Effervescent with Guarana, Ginseng & CoQ10 
10 Acai Berry flavour multivitamin & mineral effervescent food supplement tablets with guarana seed extract, Korean ginseng (Panax ginseng), co-enzyme Q10 & sweetener. 

Vitamin B6, Thiamin & Niacin support normal energy-yielding metabolism. Iron, Vitamin B12, Vitamin C & Folic acid contribute to the reduction of tiredness & fatigue. Pantothenic acid plays a role in normal mental performance. Magnesium contributes to normal electrolyte balance.


Directions for use:
Adults and children over 16: Dissolve one tablet in a 200ml glass of water daily, to make a refreshing drink. Do not exceed the stated daily intake.

Nutritional Information: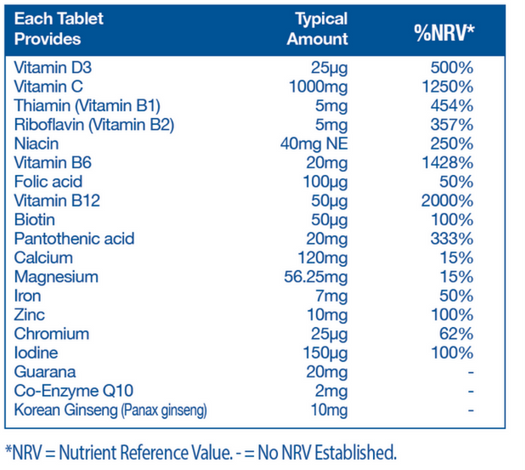 Ingredients:
Citric Acid Anhydrate, Ascorbic Acid, Acidity Regulator (Sodium Hydrogen Carbonate), Calcium Carbonate, Maltodextrin, Bulking Agent (Sorbitol), Polyethylene Glycol, Magnesium Oxide, Nicotinamide, Iron Pyrophosphate, Guarana Extract, Calcium Pantothenate, Pyridoxine Hydrochloride, Sweetener (Sucralose), Zinc Oxide, Colour (Anthocyanins), Modified Maize Starch, Acacia Gum, Thiamin Hydrochloride, Caffeine Anhydrous**, Flavouring, Riboflavin, Sucrose, Co-Enzyme Q10, Korean Ginseng (Panax ginseng) Extract, Potassium Iodide, Chromium Chloride Hexahydrate, Folic Acid, Cyanocobalamin, Biotin, Cholecalciferol.

**Contains caffeine (6.252mg per tablet).
Not recommended for children or pregnant women.

Important: 
Do not use if cap seal is broken. Keep out of sight and reach of children. Food supplements should not be used as a substitute for a varied diet and healthy lifestyle. Excessive consumption may produce laxative effects. Long term intakes of 20mg Vitamin B6, may lead to mild tingling and numbness. This product may leave a white residue; swill glass to prevent from settling and drink as normal. Desiccant grains are enclosed in the cap to keep the tablets dry. Store in a cool, dry place not exceeding 25°C.
10 Tablets