Vitamin D 2000IU (50µg) High Strength 50ml Orange Flavour Drops - Club Vits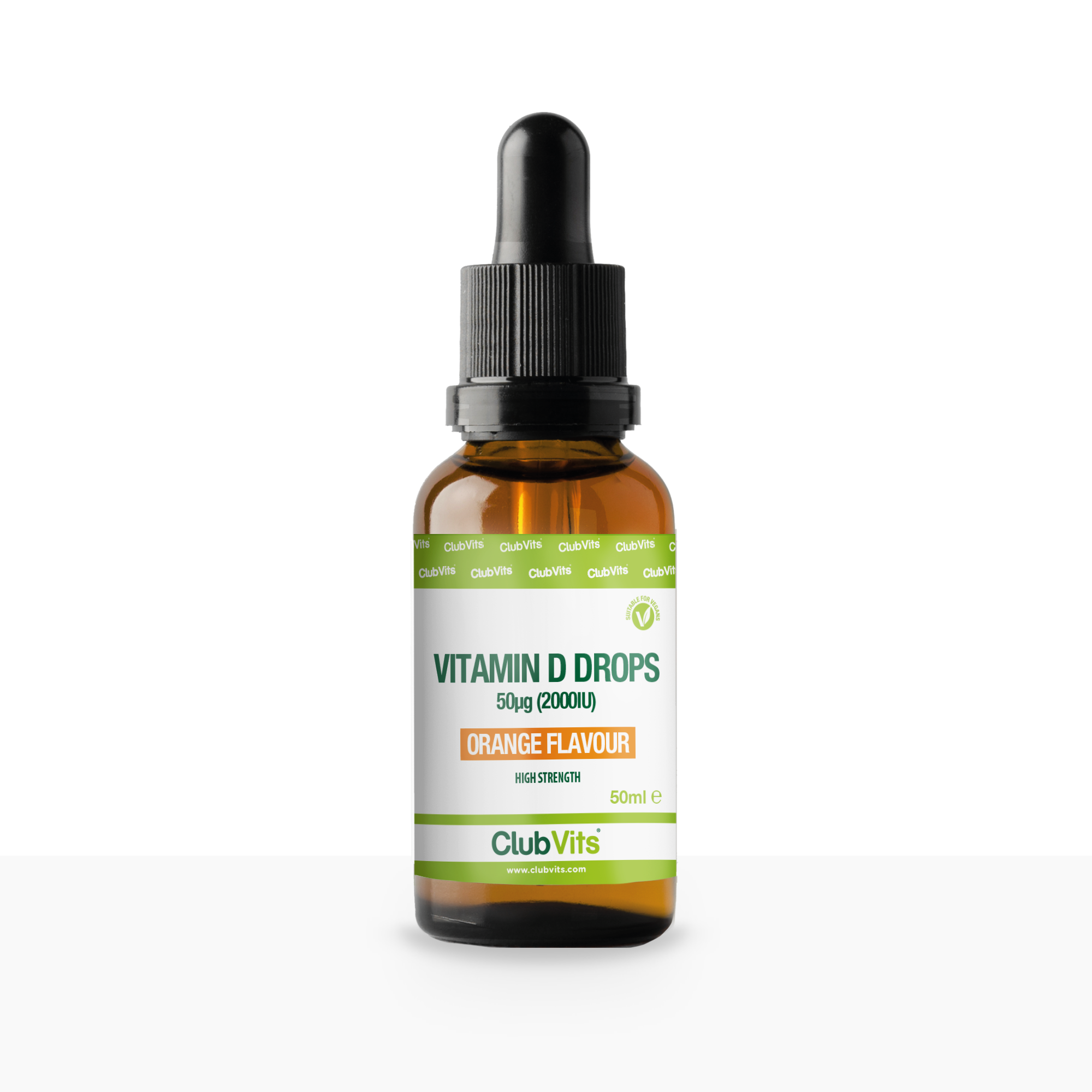 ✔  Alternative Liquid Format  
✔  Great Tasting Orange Flavour 
✔  Suitable for Vegetarians and Vegans 
What are Vitamin D 2000 IU (50µg) High Strength Drops?
These high strength vitamin D drops deliver 2000IU (1000% NRV). This product can be administered directly into the mouth or can be added to food and drink resulting in a quick and straightforward method. An ideal product for those who don't like to take tablets. Delicious Orange Flavour.  
What are the health benefits of Vitamin D 2000 IU (50µg) High Strength Drops?
Vitamin D is required for the absorption and utilisation of calcium and phosphorus, which helps to keep bones and teeth strong and healthy. It also contributes to normal muscle function, blood calcium levels, immune function and cell division. Vitamin D3 is the form of vitamin D which our skin makes when exposed to sunlight. It's our major source of natural vitamin D, with other sources including meat, oily fish and animal products in the diet.
Osteoporosis is the development of fragile, brittle bones and affects over three million people in the UK. Due to poor bone health in older age being such a large public health concern, Public Health England has recently recommended for everyone in the UK to take a vitamin D supplement throughout autumn and winter to support and protect bone and muscle health.
Who should use Vitamin D 2000 IU (50µg) High Strength Drops?   
This product is suitable for adults who are looking for an alternative method to take vitamins, people who have a poor source of dietary vitamin D, cover their skin outdoors, don't regularly go outdoors or are of Asian descent. Suitable for vegetarians and vegans.

Directions:      
Adults: Draw 0.5ml into the pipette and add daily to food or drink (or directly into mouth) or as recommended by your health professional   

Ingredients:   
Sunflower oil, Orange oil, Cholecalciferol, D alpha tocopherol. 
No artificial colours, flavours or preservatives. Suitable for vegetarians & vegans. 

Storage:    
Replace cap firmly after use and store in a cool, dry place. Protect from light and heat. 

Important:    
Do not exceed the stated daily intake. Keep supplements safely out of sight and reach of children. Food supplements should not be used as a substitute for a varied diet and healthy lifestyle.