Men's Health Multivitamin & Minerals - 6 Months Supply 180 tablets - Vitarenew
✔ Premium Quality Capsule
✔ Take before exercise
✔ Synthesises protein
Vitarenew Men's Health is an ideal one a day supplement containing synergistic nutrients to support male health, strength & wellbeing. With it's well balanced A-Z formulation, it is a core source of all the vitamins & minerals and therefore helps to maintain the optimum levels of nutrition. Vitarenew Men's Health has been developed for men of all ages, who want to maintain optimum nutrition levels and to help maintain general health and wellbeing.
VITAMIN B COMPLEX for energy release  

 HIGH STRENGTH SELENIUM for enhanced spermatogenesis  

 DOUBLE STRENGTH ZINC for immunity & testosterone concentration  


 UNIQUE BLEND of ingredients for healthy hair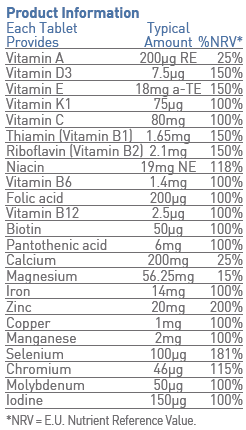 Directions:
Adults and Children over 12 years: Swallow one capsule daily with food. Do not exceed the stated daily intake. 
Ingredients: 
Calcium Carbonate, Microcrystalline Cellulose, Magnesium Oxide, Ascorbic Acid, Maltodextrin, Ferrous  Fumarate, Acacia Gum, DL-Alpha-Tocopheryl Acetate, Modified Maize Starch, Zinc Oxide, Hydroxy Propyl Methyl Cellulose, Nicotinamide, Magnesium Stearate, Calcium Pantothenate, Colours (Titanium Dioxide, Iron Oxides), Manganese Sulphate Monohydrate, Anti-Caking Agent (Silicon Dioxide), Copper Sulphate Pentahydrate, Thiamin Hydrochloride, Riboflavin, Humectant (Glycerol), Talc, Pyridoxine Hydrochloride,
Sucrose, Maize Starch, Retinyl Acetate, Silicon Dioxide, Folic Acid, Chromium Chloride Hexahydrate, Sodium Selenite, Potassium Iodide, Sodium Molybdate Dihydrate, Phytomenadione, Biotin, DL-Alpha-Tocopherol, Cholecalciferol, Cyanocobalamin.
Storage:
Store in a cool, dry place out of sight and reach of children.
Important:
Food supplements should not be used as a substitute for a varied diet and healthy lifestyle.